Jiu-Jitsu is not just a sport; it's a martial art that embodies values of respect, discipline, and continuous improvement.
Whether you're a seasoned practitioner or a beginner, these principles are the foundation of success in the world of Jiu-Jitsu.
Respect: The Cornerstone of Jiu-Jitsu!
The first and foremost rule in Jiu-Jitsu is respect. It extends to your master, your training partners, and the hierarchy within the gym. Never disrespect anyone during a Jiu-Jitsu session. You may defeat an opponent who is larger or more experienced than you, but always maintain respect for them. In Jiu-Jitsu, respect is the key to building positive relationships and a strong martial arts community.
Fuel Your Body: Pre and Post-Training Nutrition!
Jiu-Jitsu demands a significant amount of energy. On average, a Jiu-Jitsu session can burn up to 1000 calories. Therefore, proper nutrition is vital to support your training.
Pre-Training Nutrition: Eating something nutritious about an hour before training provides you with the necessary strength and endurance to endure the intense pace. Prioritize a balanced meal that includes carbohydrates, proteins, and fats to sustain your energy levels.
Post-Training Nutrition: After a rigorous session, your muscles need recovery. Consuming the right nutrients helps with muscle repair and replenishing energy stores. Refer to our article on "What to Eat Before and After Training" for detailed insights and guidance. [Insert link to the article here]
Gracie Barra River Oaks: Experience a new beginning on your Jiu-Jitsu journey!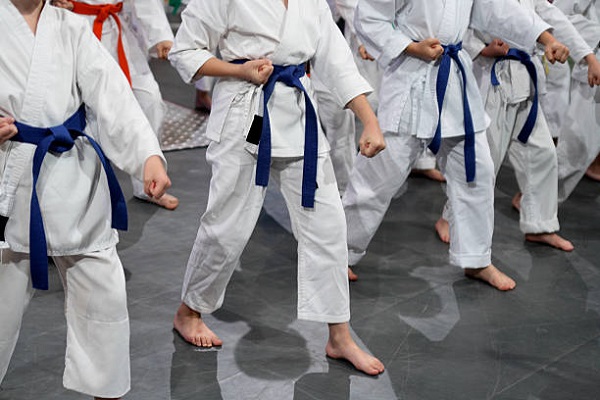 Embrace the Learning Curve!
Starting Jiu-Jitsu means stepping into a world where many practitioners are already at advanced stages. However, your progress will be gradual, and you'll reach their level with time and dedication. Seize the opportunity to learn from those more experienced. Jiu-Jitsu is an art that enables you to defeat larger and more skilled opponents by mastering technique. Therefore, observe keenly and pay attention to details—it can make all the difference.
Train Diligently: Consistency is Key!
If you want to accelerate your Jiu-Jitsu development, train consistently. Repetition of the techniques you learn in training will make them second nature. The more you practice a move during rolling, the more proficient you become. As a result, when you find yourself in a situation where you can apply that technique to submit an opponent, you'll do so with ease. Always remember that in Jiu-Jitsu, technique is the decisive factor in determining the victor.
Jiu-Jitsu is a journey that goes beyond physical fitness; it's a path to personal growth and self-improvement. By embracing respect, maintaining proper nutrition, learning from more experienced practitioners, and training diligently, you're not just mastering Jiu-Jitsu but also cultivating essential life skills. It's a martial art that rewards dedication and discipline, both on and off the mats, making it a transformative experience for those who commit to its principles.
Getting Started at Gracie Barra Is Easy: SCHEDULE YOUR FREE CLASS!
Gracie Barra River Oaks: Effective martial arts programs for kids of all ages!
Gracie Barra River Oaks: A Premier Martial Arts Academy in Houston!
Gracie Barra River Oaks is a premier martial arts academy located in Houston, Texas. Founded by Professor Ulpiano Malachias, a world-renowned Brazilian Jiu Jitsu practitioner, the academy offers top-notch training in Jiu Jitsu and mixed martial arts. Professor Malachias has been involved in athletics and martial arts from a young age, beginning with Judo at the age of 4 and then transitioning to Brazilian Jiu Jitsu at 17.
Under the leadership of Professor Malachias, Gracie Barra River Oaks has grown and expanded to a new, larger 10,000 sqft location in 2016. The academy offers a wide range of training programs to suit students of all levels, from beginners to advanced practitioners.
One of Professor Malachias greatest achievements is his success as a black belt competitor in the International Brazilian Jiu Jitsu Federation (IBJJF) competitions. He has won multiple championships and medals, including the Asian Championship in 2006, American National Championship in 2004, 2005, and 2008, and Pan American Championship Silver Medal in 2010, among others. He is also the 2022 IBJJF Jiu-Jitsu Championship Open Gold Medalist.
Gracie Barra River Oaks: Experience a new beginning on your Jiu-Jitsu journey!
Professor Malachias is committed to continuously improving his teaching skills and his own knowledge and skill in Jiu Jitsu. He is a certified IBJJF referee and has served as a referee in countless IBJJF tournaments, including some widely watched finals.
At Gracie Barra River Oaks, students have access to over 700 Gracie Barra Schools worldwide, professional-quality Jiu-Jitsu gear, and online resources to further their training. The academy promotes a holistic perspective to Jiu-Jitsu, including physical and mental wellness. All GB Schools are supervised by a Gracie Barra certified instructor, who supports students and helps each one achieve their potential through challenging training programs. Each class at Gracie Barra River Oaks is customized to offer maximum benefit for the students in attendance.
In summary, Gracie Barra River Oaks is a world-class martial arts academy with a strong commitment to excellence and dedication to Jiu-Jitsu. With Professor Ulpiano Malachias at the helm, students can expect top-notch training and support in their journey to becoming skilled practitioners of Jiu Jitsu and mixed martial arts.
Gracie Barra River Oaks: Effective martial arts programs for kids of all ages!

Route
| | |
| --- | --- |
| Monday | 06:00 - 21:00 |
| Tuesday | 06:00 - 21:00 |
| Wednesday | 06:30 - 21:00 |
| Thursday | 06:15 - 21:00 |
| Friday | 11:00 - 21:00 |
| Saturday | 09:00 - 13:00 |
| Sunday | 10:00 - 12:00 |