We all know that physical activity is beneficial for our health, bodies, and minds. But have you ever stopped to consider the advantages of introducing martial arts, especially Jiu-Jitsu, into the lives of our little ones?
In this post, we'll explore the world of Jiu-Jitsu for children and how it can positively impact their development. Discover the exciting aspects of a kids' Jiu-Jitsu training and the numerous benefits it offers.
The Challenge of Quick Thinking and Action!
One of the greatest challenges in Jiu-Jitsu is the ability to think and act swiftly. Practitioners must assess the situation, their opponent, and themselves in a matter of seconds, all while choosing the most suitable technique to handle the situation. For children, this challenge is both exhilarating and educational, as it helps develop their decision-making skills and enhances their cognitive abilities.
Fun and Engaging Jiu-Jitsu Sessions!
In kids' Jiu-Jitsu classes, the emphasis is on making learning fun and engaging. Through a series of games and playful activities, children are introduced to the fundamentals of Jiu-Jitsu, fostering their interest in the martial art. These classes aim to create an environment that encourages kids to enjoy the learning process while building essential physical and mental skills.
Gracie Barra River Oaks: Experience a new beginning on your Jiu-Jitsu journey!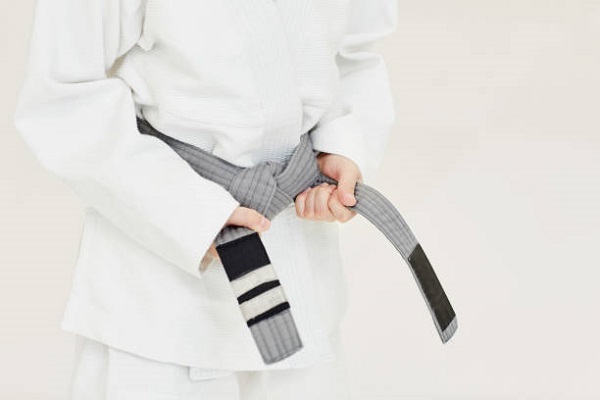 Coordination between Thinking and Action!
The key goal of children's Jiu-Jitsu classes is to enhance the coordination between thinking and action. By incorporating games and exercises that require children to think while performing physical activities, they develop the ability to multitask effectively. For instance, simple exercises like jumping jacks are combined with naming fruits, Jiu-Jitsu moves, or favorite movie characters. This approach not only keeps the children engaged but also stimulates their brains while they are physically active.
Fostering Cognitive Development!
Jiu-Jitsu for kids is not solely about learning self-defense techniques but also about fostering cognitive development. The mental challenges posed during training sessions promote problem-solving skills, creativity, and strategic thinking in children. As they progress in their Jiu-Jitsu journey, kids gain confidence in their cognitive abilities, which can positively impact their academic performance and social interactions.
A Holistic Approach to Growth!
Jiu-Jitsu provides a holistic approach to children's growth, nurturing both their physical and mental well-being. Through discipline and respect for their instructors and fellow students, kids learn valuable life skills that extend beyond the martial arts mat. Moreover, the camaraderie and teamwork fostered in Jiu-Jitsu classes help children build positive relationships and develop essential social skills.
Introducing children to Jiu-Jitsu offers a multitude of benefits, from honing quick thinking and decision-making abilities to fostering cognitive development and building essential life skills. The interactive and engaging nature of kids' Jiu-Jitsu classes ensures that children not only have fun but also thrive in their physical and mental development. As they progress in this martial art, they grow into confident, disciplined, and resilient individuals, equipped to face life's challenges with strength and determination. So, let your child embark on this exciting journey, and watch them flourish on the path of Jiu-Jitsu.
Getting Started at Gracie Barra Is Easy: SCHEDULE YOUR FREE CLASS!
Gracie Barra River Oaks: Effective martial arts programs for kids of all ages!
Gracie Barra River Oaks: A Premier Martial Arts Academy in Houston!
Gracie Barra River Oaks is a premier martial arts academy located in Houston, Texas. Founded by Professor Ulpiano Malachias, a world-renowned Brazilian Jiu Jitsu practitioner, the academy offers top-notch training in Jiu Jitsu and mixed martial arts. Professor Malachias has been involved in athletics and martial arts from a young age, beginning with Judo at the age of 4 and then transitioning to Brazilian Jiu Jitsu at 17.
Under the leadership of Professor Malachias, Gracie Barra River Oaks has grown and expanded to a new, larger 10,000 sqft location in 2016. The academy offers a wide range of training programs to suit students of all levels, from beginners to advanced practitioners.
One of Professor Malachias greatest achievements is his success as a black belt competitor in the International Brazilian Jiu Jitsu Federation (IBJJF) competitions. He has won multiple championships and medals, including the Asian Championship in 2006, American National Championship in 2004, 2005, and 2008, and Pan American Championship Silver Medal in 2010, among others. He is also the 2022 IBJJF Jiu-Jitsu Championship Open Gold Medalist.
Gracie Barra River Oaks: Experience a new beginning on your Jiu-Jitsu journey!
Professor Malachias is committed to continuously improving his teaching skills and his own knowledge and skill in Jiu Jitsu. He is a certified IBJJF referee and has served as a referee in countless IBJJF tournaments, including some widely watched finals.
At Gracie Barra River Oaks, students have access to over 700 Gracie Barra Schools worldwide, professional-quality Jiu-Jitsu gear, and online resources to further their training. The academy promotes a holistic perspective to Jiu-Jitsu, including physical and mental wellness. All GB Schools are supervised by a Gracie Barra certified instructor, who supports students and helps each one achieve their potential through challenging training programs. Each class at Gracie Barra River Oaks is customized to offer maximum benefit for the students in attendance.
In summary, Gracie Barra River Oaks is a world-class martial arts academy with a strong commitment to excellence and dedication to Jiu-Jitsu. With Professor Ulpiano Malachias at the helm, students can expect top-notch training and support in their journey to becoming skilled practitioners of Jiu Jitsu and mixed martial arts.
Gracie Barra River Oaks: Effective martial arts programs for kids of all ages!

Route
| | |
| --- | --- |
| Monday | 06:00 - 21:00 |
| Tuesday | 06:00 - 21:00 |
| Wednesday | 06:30 - 21:00 |
| Thursday | 06:15 - 21:00 |
| Friday | 11:00 - 21:00 |
| Saturday | 09:00 - 13:00 |
| Sunday | 10:00 - 12:00 |