The world of Jiu Jitsu is experiencing a transformation as more and more women step onto the mats, determined to shatter stereotypes and redefine the sport.
Despite initial challenges and misconceptions, the rise of women in jiu-jitsu is making waves and carving out a powerful presence in academies and competitions worldwide.
A Battle Against Invalidation: For many female fighters, the journey in jiu-jitsu has been marked by moments of invalidation, where their accomplishments are belittled or overlooked, often at the early stages of their careers. Such experiences can be disheartening, but they have only fueled the determination of women to prove their worth and challenge the status quo.
Defying Taboos: Participating in jiu-jitsu, whether for leisure, professional aspirations, or personal protection, has long been a taboo for women. Breaking these societal norms and claiming their right to train and compete has been an uphill battle. Despite the obstacles, women have been relentlessly defying these taboos, making strides towards inclusivity and equity in the sport.
Gracie Barra River Oaks: Experience a new beginning on your Jiu-Jitsu journey!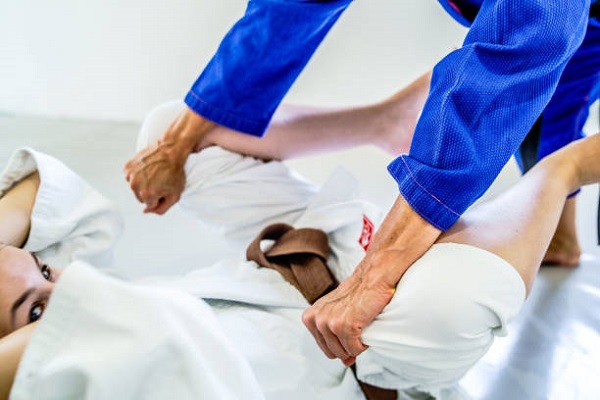 Conquering Space: Women are carving out their spaces in jiu-jitsu academies and tournaments, creating a ripple effect of inspiration for future generations. As they train alongside male counterparts, they're demonstrating that skill and determination know no gender boundaries. This shift is not just about participating but about thriving and excelling in a space historically dominated by men.
Strength Beyond the Mats: Jiu-jitsu is more than a physical activity; it's a transformative journey that empowers women mentally and emotionally. It instills confidence, helps them overcome shyness, calms anxiety, and fosters a strong sense of self. Through grappling and strategic thinking, women learn to conquer challenges, both on and off the mats.
Championing the New Normal: The landscape of jiu-jitsu is changing, and women are increasingly seen as equal partners in the sport. By rising to the occasion, they're challenging the idea that jiu-jitsu is a male-dominated activity. With every step they take, they're advocating for a new normal—one where women's participation is celebrated, respected, and expected.
A Revolution on the Mats: The growing presence of women in Jiu Jitsu is more than just a trend; it's a revolution. From confronting stereotypes to defying taboos, female fighters are showing the world the resilience, dedication, and strength that they bring to the sport.
As more women step onto the mats, the face of jiu-jitsu is changing, and the impact of this change will undoubtedly resonate for generations to come.
Getting Started at Gracie Barra Is Easy: SCHEDULE YOUR FREE CLASS!
Gracie Barra River Oaks: Effective martial arts programs for kids of all ages!
Gracie Barra River Oaks: A Premier Martial Arts Academy in Houston!
Gracie Barra River Oaks is a premier martial arts academy located in Houston, Texas. Founded by Professor Ulpiano Malachias, a world-renowned Brazilian Jiu Jitsu practitioner, the academy offers top-notch training in Jiu Jitsu and mixed martial arts. Professor Malachias has been involved in athletics and martial arts from a young age, beginning with Judo at the age of 4 and then transitioning to Brazilian Jiu Jitsu at 17.
Under the leadership of Professor Malachias, Gracie Barra River Oaks has grown and expanded to a new, larger 10,000 sqft location in 2016. The academy offers a wide range of training programs to suit students of all levels, from beginners to advanced practitioners.
One of Professor Malachias greatest achievements is his success as a black belt competitor in the International Brazilian Jiu Jitsu Federation (IBJJF) competitions. He has won multiple championships and medals, including the Asian Championship in 2006, American National Championship in 2004, 2005, and 2008, and Pan American Championship Silver Medal in 2010, among others. He is also the 2022 IBJJF Jiu-Jitsu Championship Open Gold Medalist.
Gracie Barra River Oaks: Experience a new beginning on your Jiu-Jitsu journey!
Professor Malachias is committed to continuously improving his teaching skills and his own knowledge and skill in Jiu Jitsu. He is a certified IBJJF referee and has served as a referee in countless IBJJF tournaments, including some widely watched finals.
At Gracie Barra River Oaks, students have access to over 700 Gracie Barra Schools worldwide, professional-quality Jiu-Jitsu gear, and online resources to further their training. The academy promotes a holistic perspective to Jiu-Jitsu, including physical and mental wellness. All GB Schools are supervised by a Gracie Barra certified instructor, who supports students and helps each one achieve their potential through challenging training programs. Each class at Gracie Barra River Oaks is customized to offer maximum benefit for the students in attendance.
In summary, Gracie Barra River Oaks is a world-class martial arts academy with a strong commitment to excellence and dedication to Jiu-Jitsu. With Professor Ulpiano Malachias at the helm, students can expect top-notch training and support in their journey to becoming skilled practitioners of Jiu Jitsu and mixed martial arts.
Gracie Barra River Oaks: Effective martial arts programs for kids of all ages!

Route
| | |
| --- | --- |
| Monday | 06:00 - 21:00 |
| Tuesday | 06:00 - 21:00 |
| Wednesday | 06:30 - 21:00 |
| Thursday | 06:15 - 21:00 |
| Friday | 11:00 - 21:00 |
| Saturday | 09:00 - 13:00 |
| Sunday | 10:00 - 12:00 |