Jiu-Jitsu is not just a martial art; it's a mindset that empowers individuals to conquer challenges through technique, timing, and leverage rather than sheer strength.
For women in the world of Jiu-Jitsu, this philosophy takes on even greater significance. As you embark on this empowering journey, remember that assuming your opponent is bigger, stronger, and faster teaches you to trust in your skills, timing, and leverage, rather than relying solely on brute force.
Harnessing the power of technique!
While I can impart all the techniques and tricks I know, I can't transform you into a fighter. That spark comes from within and is a unique element that nobody else can give you. Embrace the understanding that Jiu-Jitsu is a profound fusion of physical prowess and mental resilience. The techniques you master become tools that enable you to overcome any challenge on the mats.
Championing women in jiu-jitsu!
Jiu-Jitsu is a demanding sport, especially for women, and some deem it the most challenging sport of all. Yet, being a woman in Jiu-Jitsu opens doors to unique advantages. While being the only woman in a class or even your entire gym might seem daunting, remember that your teammates, regardless of gender, are there to support your growth. Rolling with men can provide invaluable experiences that foster character development, self-esteem, strength, and refined technique.
Gracie Barra River Oaks: Experience a new beginning on your Jiu-Jitsu journey!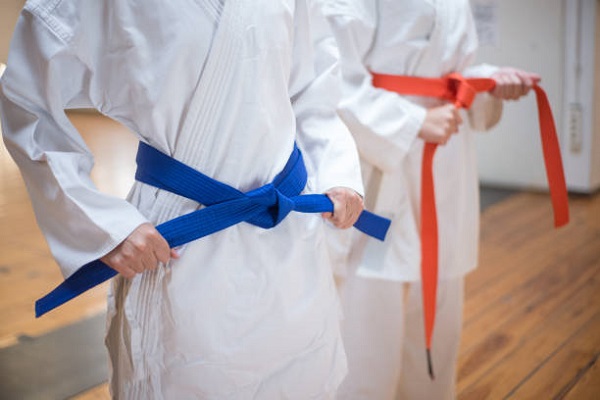 Breaking barriers and building confidence!
The practice of Jiu-Jitsu is about breaking through limitations—both mental and physical—and building a resilient spirit. As a woman in Jiu-Jitsu, you have the chance to shatter preconceptions and set new standards for yourself. Every roll is an opportunity to hone your skills, deepen your understanding of technique, and demonstrate that size and gender are not decisive factors in achieving success on the mats.
Thriving in a supportive Community!
Though it may seem like a solitary journey at times, Jiu-Jitsu is a communal endeavor. You're never truly alone; a network of fellow practitioners surrounds you, cheering for your triumphs and guiding you through setbacks. Seek camaraderie, share your experiences, and embrace the collective strength that the Jiu-Jitsu community offers.
Writing your jiu-jitsu story!
Your journey in Jiu-Jitsu is a personal narrative—a story of growth, resilience, and empowerment. Embrace the ethos of technique over strength, cultivate your skills, and nurture the warrior within. As a woman in Jiu-Jitsu, you're part of a lineage of empowered athletes who have broken boundaries and redefined possibilities. Your journey is unique, but the lessons you learn and the strength you gain will resonate across every mat you step foot on.
Getting Started at Gracie Barra Is Easy: SCHEDULE YOUR FREE CLASS!
Gracie Barra River Oaks: Effective martial arts programs for kids of all ages!
Gracie Barra River Oaks: A Premier Martial Arts Academy in Houston!
Gracie Barra River Oaks is a premier martial arts academy located in Houston, Texas. Founded by Professor Ulpiano Malachias, a world-renowned Brazilian Jiu Jitsu practitioner, the academy offers top-notch training in Jiu Jitsu and mixed martial arts. Professor Malachias has been involved in athletics and martial arts from a young age, beginning with Judo at the age of 4 and then transitioning to Brazilian Jiu Jitsu at 17.
Under the leadership of Professor Malachias, Gracie Barra River Oaks has grown and expanded to a new, larger 10,000 sqft location in 2016. The academy offers a wide range of training programs to suit students of all levels, from beginners to advanced practitioners.
One of Professor Malachias greatest achievements is his success as a black belt competitor in the International Brazilian Jiu Jitsu Federation (IBJJF) competitions. He has won multiple championships and medals, including the Asian Championship in 2006, American National Championship in 2004, 2005, and 2008, and Pan American Championship Silver Medal in 2010, among others. He is also the 2022 IBJJF Jiu-Jitsu Championship Open Gold Medalist.
Gracie Barra River Oaks: Experience a new beginning on your Jiu-Jitsu journey!
Professor Malachias is committed to continuously improving his teaching skills and his own knowledge and skill in Jiu Jitsu. He is a certified IBJJF referee and has served as a referee in countless IBJJF tournaments, including some widely watched finals.
At Gracie Barra River Oaks, students have access to over 700 Gracie Barra Schools worldwide, professional-quality Jiu-Jitsu gear, and online resources to further their training. The academy promotes a holistic perspective to Jiu-Jitsu, including physical and mental wellness. All GB Schools are supervised by a Gracie Barra certified instructor, who supports students and helps each one achieve their potential through challenging training programs. Each class at Gracie Barra River Oaks is customized to offer maximum benefit for the students in attendance.
In summary, Gracie Barra River Oaks is a world-class martial arts academy with a strong commitment to excellence and dedication to Jiu-Jitsu. With Professor Ulpiano Malachias at the helm, students can expect top-notch training and support in their journey to becoming skilled practitioners of Jiu Jitsu and mixed martial arts.
Gracie Barra River Oaks: Effective martial arts programs for kids of all ages!

Route
| | |
| --- | --- |
| Monday | 06:00 - 21:00 |
| Tuesday | 06:00 - 21:00 |
| Wednesday | 06:30 - 21:00 |
| Thursday | 06:15 - 21:00 |
| Friday | 11:00 - 21:00 |
| Saturday | 09:00 - 13:00 |
| Sunday | 10:00 - 12:00 |