Jiu-Jitsu, an ancient martial art with origins in Japan, has transcended gender barriers and is now widely embraced by women around the world.
Beyond the physical aspect of self-defense, Jiu-Jitsu offers numerous benefits that contribute to a well-rounded and empowered lifestyle for women.
From fostering a healthy relationship with food and exercise to promoting mental clarity and self-awareness through meditation, Women's Jiu-Jitsu is a transformative journey that enhances the quality of life in various aspects.
Empowerment through Self-Defense!
One of the most empowering aspects of Women's Jiu-Jitsu is its focus on technique and leverage, allowing practitioners to defend themselves effectively regardless of size or strength. This newfound sense of empowerment and security can positively impact a woman's confidence, both on and off the mats. As women learn to protect themselves, they develop a deeper appreciation for their own strength and capabilities, which often translates into other areas of life.
A Path to a Healthy Lifestyle!
Women's Jiu-Jitsu often serves as a gateway to adopting a healthier lifestyle. In their journey to improve their Jiu-Jitsu skills, women naturally become more mindful of their bodies and their overall well-being. Regular training motivates them to maintain a balanced diet, ensuring they have the energy and endurance needed for intense training sessions. As a result, practitioners become more conscious of their nutritional choices, leading to improved overall health.
Holistic Approach to Wellness!
Beyond the physical aspect, Women's Jiu-Jitsu encourages a holistic approach to wellness, encompassing various aspects of life. Regular training instills discipline and perseverance, which can positively influence other areas such as work, relationships, and personal goals. Many women find that the mental fortitude they develop on the mats spills over into their professional lives, enabling them to handle challenges with greater resilience.
Gracie Barra River Oaks: Experience a new beginning on your Jiu-Jitsu journey!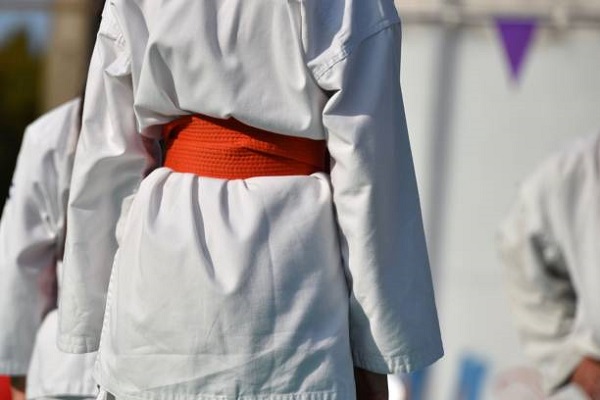 Stress Reduction and Mental Clarity!
The demanding nature of Jiu-Jitsu training offers an outlet for stress and tension, allowing women to release negative energy and anxiety. The focus required during training promotes mindfulness and mental clarity, which can significantly improve mental well-being. Moreover, Jiu-Jitsu serves as a form of moving meditation, teaching practitioners to be present in the moment and let go of distractions.
Building Supportive Communities!
Women's Jiu-Jitsu academies often foster strong and supportive communities. The camaraderie among female practitioners creates a safe and encouraging environment for learning and growth. This sense of belonging is invaluable, as it provides a network of like-minded individuals who share similar goals and aspirations.
Travel and Opportunities!
Women's Jiu-Jitsu opens doors to exciting opportunities for travel and personal development. Women can participate in seminars, workshops, and competitions around the world, broadening their horizons and connecting with practitioners from diverse backgrounds. These experiences not only enhance their Jiu-Jitsu skills but also enrich their lives through exposure to different cultures and perspectives.
Women's Jiu-Jitsu transcends mere physical training; it becomes a life-changing journey that empowers women to embrace a healthy and holistic lifestyle. Through self-defense skills, a focus on mental clarity, and the cultivation of supportive communities, Jiu-Jitsu equips women with valuable tools that enhance their quality of life. As more women embrace the art of Jiu-Jitsu, its positive impact will continue to ripple through various aspects of their lives, promoting empowerment, resilience, and personal growth.
Getting Started at Gracie Barra Is Easy: SCHEDULE YOUR FREE CLASS!
Gracie Barra River Oaks: Effective martial arts programs for kids of all ages!
Gracie Barra River Oaks: A Premier Martial Arts Academy in Houston!
Gracie Barra River Oaks is a premier martial arts academy located in Houston, Texas. Founded by Professor Ulpiano Malachias, a world-renowned Brazilian Jiu Jitsu practitioner, the academy offers top-notch training in Jiu Jitsu and mixed martial arts. Professor Malachias has been involved in athletics and martial arts from a young age, beginning with Judo at the age of 4 and then transitioning to Brazilian Jiu Jitsu at 17.
Under the leadership of Professor Malachias, Gracie Barra River Oaks has grown and expanded to a new, larger 10,000 sqft location in 2016. The academy offers a wide range of training programs to suit students of all levels, from beginners to advanced practitioners.
One of Professor Malachias greatest achievements is his success as a black belt competitor in the International Brazilian Jiu Jitsu Federation (IBJJF) competitions. He has won multiple championships and medals, including the Asian Championship in 2006, American National Championship in 2004, 2005, and 2008, and Pan American Championship Silver Medal in 2010, among others. He is also the 2022 IBJJF Jiu-Jitsu Championship Open Gold Medalist.
Gracie Barra River Oaks: Experience a new beginning on your Jiu-Jitsu journey!
Professor Malachias is committed to continuously improving his teaching skills and his own knowledge and skill in Jiu Jitsu. He is a certified IBJJF referee and has served as a referee in countless IBJJF tournaments, including some widely watched finals.
At Gracie Barra River Oaks, students have access to over 700 Gracie Barra Schools worldwide, professional-quality Jiu-Jitsu gear, and online resources to further their training. The academy promotes a holistic perspective to Jiu-Jitsu, including physical and mental wellness. All GB Schools are supervised by a Gracie Barra certified instructor, who supports students and helps each one achieve their potential through challenging training programs. Each class at Gracie Barra River Oaks is customized to offer maximum benefit for the students in attendance.
In summary, Gracie Barra River Oaks is a world-class martial arts academy with a strong commitment to excellence and dedication to Jiu-Jitsu. With Professor Ulpiano Malachias at the helm, students can expect top-notch training and support in their journey to becoming skilled practitioners of Jiu Jitsu and mixed martial arts.
Gracie Barra River Oaks: Effective martial arts programs for kids of all ages!

Route
| | |
| --- | --- |
| Monday | 06:00 - 21:00 |
| Tuesday | 06:00 - 21:00 |
| Wednesday | 06:30 - 21:00 |
| Thursday | 06:15 - 21:00 |
| Friday | 11:00 - 21:00 |
| Saturday | 09:00 - 13:00 |
| Sunday | 10:00 - 12:00 |