Jiu-Jitsu has emerged as a powerful platform for women to achieve not only physical fitness but also empowerment.
This martial art offers a myriad of benefits, ranging from aesthetic improvements to enhanced cardiovascular health, strength development, and flexibility.
In this article, we delve into the immense advantages of Jiu-Jitsu for women, highlighting how it can positively transform both their bodies and lives.
Sculpting the Body!
One of the most visible benefits of Jiu-Jitsu for women is its transformative impact on physical appearance. Jiu-jitsu engages all major muscle groups, with particular focus on the abdomen, shoulders, arms, and hips. The dynamic and intense nature of the sport helps women achieve a toned and sculpted physique, promoting overall body strength and endurance.
Boosting Strength and Muscle Mass!
Jiu-Jitsu is an isometric and anaerobic sport that demands significant strength. Studies have shown that women who engage in this sport can experience up to a fourfold increase in their physical strength. Moreover, consistent practice can lead to an increase in lean muscle mass. This not only aids in reducing the likelihood of common issues such as cellulite, stretch marks, and localized fat deposits but also results in better sleep quality and an improved overall quality of life.
Gracie Barra River Oaks: Experience a new beginning on your Jiu-Jitsu journey!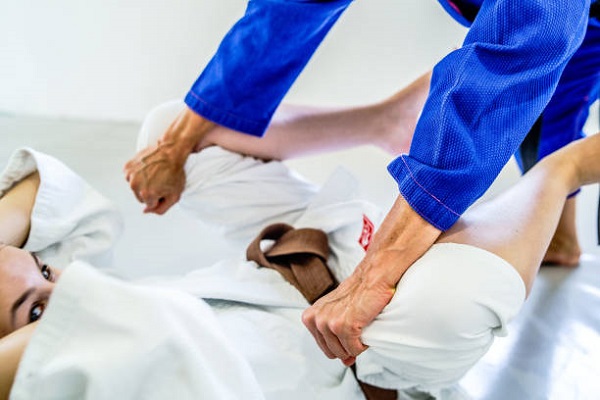 Enhancing Flexibility!
Flexibility is a key aspect of Jiu-Jitsu, and it holds even more significance in women's practice. Women typically possess a natural advantage when it comes to flexibility, which plays a pivotal role in BJJ. The sport inherently involves stretching exercises as a part of combat techniques, contributing to increased flexibility. The technical aspect of BJJ, which requires concentration and attention, makes women ideal candidates for excelling in this martial art. Leveraging body mechanics and the opponent's strength, along with strategic planning, forms a perfect blend that often allows women to outshine their male counterparts.
Cardiovascular Health and Stamina!
Jiu-Jitsu provides a rigorous aerobic workout that significantly enhances cardiovascular health. The demanding nature of the sport pushes practitioners to their limits, improving cardiorespiratory capacity. This boost in cardiovascular fitness not only increases overall energy levels but also aids in shedding unwanted body fat, ultimately leading to a leaner, healthier physique.
Jiu-Jitsu is more than just a sport; it's a transformative journey that empowers women physically, mentally, and emotionally. From toning the body and increasing strength to enhancing flexibility and cardiovascular health, jiu-jitsu offers a holistic approach to well-being. Women who embrace this martial art find themselves not only fitter and more confident but also better equipped to tackle the challenges of everyday life. Jiu-Jitsu isn't just about self-defense; it's about self-improvement and self-empowerment, making it an excellent choice for women seeking a healthier, stronger, and more fulfilling lifestyle.
Getting Started at Gracie Barra Is Easy: SCHEDULE YOUR FREE CLASS!
Gracie Barra River Oaks: Effective martial arts programs for kids of all ages!
Gracie Barra River Oaks: A Premier Martial Arts Academy in Houston!
Gracie Barra River Oaks is a premier martial arts academy located in Houston, Texas. Founded by Professor Ulpiano Malachias, a world-renowned Brazilian Jiu Jitsu practitioner, the academy offers top-notch training in Jiu Jitsu and mixed martial arts. Professor Malachias has been involved in athletics and martial arts from a young age, beginning with Judo at the age of 4 and then transitioning to Brazilian Jiu Jitsu at 17.
Under the leadership of Professor Malachias, Gracie Barra River Oaks has grown and expanded to a new, larger 10,000 sqft location in 2016. The academy offers a wide range of training programs to suit students of all levels, from beginners to advanced practitioners.
One of Professor Malachias greatest achievements is his success as a black belt competitor in the International Brazilian Jiu Jitsu Federation (IBJJF) competitions. He has won multiple championships and medals, including the Asian Championship in 2006, American National Championship in 2004, 2005, and 2008, and Pan American Championship Silver Medal in 2010, among others. He is also the 2022 IBJJF Jiu-Jitsu Championship Open Gold Medalist.
Gracie Barra River Oaks: Experience a new beginning on your Jiu-Jitsu journey!
Professor Malachias is committed to continuously improving his teaching skills and his own knowledge and skill in Jiu Jitsu. He is a certified IBJJF referee and has served as a referee in countless IBJJF tournaments, including some widely watched finals.
At Gracie Barra River Oaks, students have access to over 700 Gracie Barra Schools worldwide, professional-quality Jiu-Jitsu gear, and online resources to further their training. The academy promotes a holistic perspective to Jiu-Jitsu, including physical and mental wellness. All GB Schools are supervised by a Gracie Barra certified instructor, who supports students and helps each one achieve their potential through challenging training programs. Each class at Gracie Barra River Oaks is customized to offer maximum benefit for the students in attendance.
In summary, Gracie Barra River Oaks is a world-class martial arts academy with a strong commitment to excellence and dedication to Jiu-Jitsu. With Professor Ulpiano Malachias at the helm, students can expect top-notch training and support in their journey to becoming skilled practitioners of Jiu Jitsu and mixed martial arts.
Gracie Barra River Oaks: Effective martial arts programs for kids of all ages!

Route
| | |
| --- | --- |
| Monday | 06:00 - 21:00 |
| Tuesday | 06:00 - 21:00 |
| Wednesday | 06:30 - 21:00 |
| Thursday | 06:15 - 21:00 |
| Friday | 11:00 - 21:00 |
| Saturday | 09:00 - 13:00 |
| Sunday | 10:00 - 12:00 |