Jiu-Jitsu, like many other aspects of our lives, has been significantly influenced by technology. The advent of the internet, videos, social media platforms, and applications has transformed the way practitioners engage with the sport. These technological advancements have brought about a new era of Jiu-Jitsu, often referred to as Jiu-Jitsu 2.0, by providing access to information, training resources, and competitions that were once difficult to find.
One of the key ways in which technology is changing the game of Jiu-Jitsu is through the availability of online videos and content. Nowadays, practitioners can easily find detailed instructional videos for virtually any Jiu-Jitsu technique. This allows individuals to study and enhance their skills at home, outside of regular training hours. With just a few clicks, they can access a wealth of knowledge from renowned instructors and experts, enabling them to learn new techniques, refine their existing ones, and deepen their understanding of the art.
Moreover, streaming platforms have revolutionized the way Jiu-Jitsu competitions are consumed. Fans and practitioners now have the convenience of watching live or on-demand Jiu-Jitsu competitions from the comfort of their homes. They can witness high-level matches, study the techniques employed by elite athletes, and gain inspiration from their performances. This instant access to top-level competitions has expanded the reach of Jiu-Jitsu, fostering a global community and promoting the growth of the sport.
Technology has also facilitated the formation of online communities and platforms dedicated to Jiu-Jitsu. Social media networks, discussion forums, and specialized apps connect practitioners from all over the world, allowing them to share experiences, seek advice, and engage in collaborative learning. These digital communities have become valuable sources of support, encouragement, and camaraderie for Jiu-Jitsu enthusiasts, fostering a sense of belonging and facilitating the exchange of knowledge and insights.
Gracie Barra River Oaks: Experience a new beginning on your Jiu-Jitsu journey!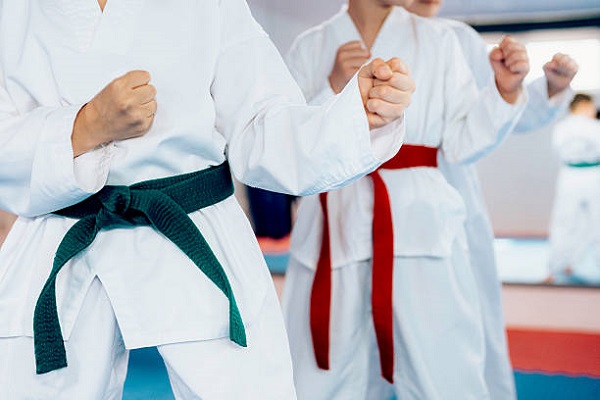 Additionally, technology has made it easier for practitioners to track their progress and monitor their performance. With the help of wearable devices and fitness apps, they can measure their heart rate, calorie expenditure, and training intensity. These tools enable practitioners to set goals, track their training sessions, and make data-driven decisions to optimize their performance. By leveraging technology, practitioners can gain a deeper understanding of their strengths, weaknesses, and areas for improvement, enhancing their overall Jiu-Jitsu journey.
Furthermore, technology has played a pivotal role in promoting the visibility and recognition of Jiu-Jitsu as a sport. The rise of social media platforms has allowed practitioners to showcase their skills, share their achievements, and connect with a broader audience. As a result, Jiu-Jitsu has garnered increased attention and interest from people who may not have been exposed to it otherwise. This heightened visibility has led to the growth of Jiu-Jitsu academies, the organization of more tournaments, and the development of new opportunities for practitioners to showcase their talent and compete at various levels.
In conclusion, technology has brought about significant changes in the world of Jiu-Jitsu, giving rise to what is often referred to as Jiu-Jitsu 2.0. The availability of online videos and content has revolutionized the way techniques are learned and practiced, while streaming platforms have made competitions more accessible than ever. Online communities and technology-driven tracking tools have facilitated knowledge exchange and personal development. Moreover, technology has played a vital role in increasing the visibility and recognition of Jiu-Jitsu as a sport. As technology continues to advance, it is likely that Jiu-Jitsu will continue to evolve, creating new opportunities and possibilities for practitioners around the world.
Getting Started at Gracie Barra Is Easy: SCHEDULE YOUR FREE CLASS!
Gracie Barra River Oaks: Effective martial arts programs for kids of all ages!
Gracie Barra River Oaks: A Premier Martial Arts Academy in Houston!
Gracie Barra River Oaks is a premier martial arts academy located in Houston, Texas. Founded by Professor Ulpiano Malachias, a world-renowned Brazilian Jiu Jitsu practitioner, the academy offers top-notch training in Jiu Jitsu and mixed martial arts. Professor Malachias has been involved in athletics and martial arts from a young age, beginning with Judo at the age of 4 and then transitioning to Brazilian Jiu Jitsu at 17.
Under the leadership of Professor Malachias, Gracie Barra River Oaks has grown and expanded to a new, larger 10,000 sqft location in 2016. The academy offers a wide range of training programs to suit students of all levels, from beginners to advanced practitioners.
One of Professor Malachias greatest achievements is his success as a black belt competitor in the International Brazilian Jiu Jitsu Federation (IBJJF) competitions. He has won multiple championships and medals, including the Asian Championship in 2006, American National Championship in 2004, 2005, and 2008, and Pan American Championship Silver Medal in 2010, among others. He is also the 2022 IBJJF Jiu-Jitsu Championship Open Gold Medalist.
Gracie Barra River Oaks: Experience a new beginning on your Jiu-Jitsu journey!
Professor Malachias is committed to continuously improving his teaching skills and his own knowledge and skill in Jiu Jitsu. He is a certified IBJJF referee and has served as a referee in countless IBJJF tournaments, including some widely watched finals.
At Gracie Barra River Oaks, students have access to over 700 Gracie Barra Schools worldwide, professional-quality Jiu-Jitsu gear, and online resources to further their training. The academy promotes a holistic perspective to Jiu-Jitsu, including physical and mental wellness. All GB Schools are supervised by a Gracie Barra certified instructor, who supports students and helps each one achieve their potential through challenging training programs. Each class at Gracie Barra River Oaks is customized to offer maximum benefit for the students in attendance.
In summary, Gracie Barra River Oaks is a world-class martial arts academy with a strong commitment to excellence and dedication to Jiu-Jitsu. With Professor Ulpiano Malachias at the helm, students can expect top-notch training and support in their journey to becoming skilled practitioners of Jiu Jitsu and mixed martial arts.
Gracie Barra River Oaks: Effective martial arts programs for kids of all ages!

Route
| | |
| --- | --- |
| Monday | 06:00 - 21:00 |
| Tuesday | 06:00 - 21:00 |
| Wednesday | 06:30 - 21:00 |
| Thursday | 06:15 - 21:00 |
| Friday | 11:00 - 21:00 |
| Saturday | 09:00 - 13:00 |
| Sunday | 10:00 - 12:00 |