Jiu-Jitsu is an intricate martial art that capitalizes on leveraging an opponent's strength and weight to one's advantage.
The art even allows for the opponent to be thrown to the ground in a controlled manner. This practice involves a mix of impactful strikes and personalized defense techniques.
Decency and Tradition in Jiu-Jitsu!
The essence of Jiu-Jitsu extends beyond technique to encompass values of respect and tradition. Fighters are required to maintain a certain standard of appearance, including keeping their nails neatly trimmed and adhering to the dress code by wearing the traditional kimono, or "gi." Upholding these standards showcases reverence for the martial art's heritage.
The Power of Control and Adaptation!
At its core, Jiu-Jitsu is about control and adaptation. Fighters utilize the opponent's energy to their own advantage, relying on techniques that nullify brute force. This approach is particularly effective in situations where size and strength differences come into play. With Jiu-Jitsu, it's less about overpowering and more about outsmarting.
Gracie Barra River Oaks: Experience a new beginning on your Jiu-Jitsu journey!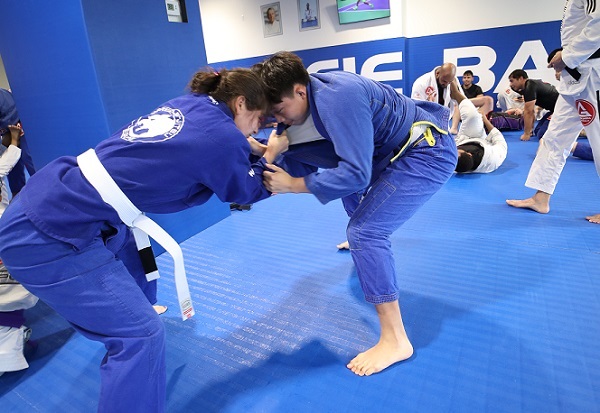 A Respectful Duel: Rules and Etiquette!
In Jiu-Jitsu, combat follows a set of rules designed to ensure fairness and safety. The practice prohibits biting, scratching, or using the head or fist to gain an advantage. Proper technique is essential, and even when using kicks, fighters are encouraged to utilize the correct part of the foot for both precision and safety. Additionally, maintaining good sportsmanship is paramount.
Precision and Strategy: Rounds and Judges!
Matches are structured with rounds lasting five minutes, followed by two minutes of rest. A key aspect of the game is strategy, as fighters seek to position themselves advantageously. Judges oversee the matches, maintaining time and ensuring adherence to the rules. Falling off the mat requires fighters to return to their starting positions, ready to continue the bout.
Jiu-Jitsu and the Art of Resilience!
Jiu-Jitsu isn't just a martial art; it's a mindset. It encourages practitioners to focus on resilience, adaptability, and overcoming challenges. This mental fortitude cultivated on the mats translates to life beyond the dojo, empowering individuals to approach difficulties with a calm and calculated mindset.
Jiu-Jitsu is more than just a series of movements; it's an intricate dance of technique, strategy, and respect. By using an opponent's force against them, practitioners master the art of balance and leverage. This martial art isn't solely about physical prowess but also about embodying the principles of respect, discipline, and adaptability. From the precision of technique to the intricacies of rounds and etiquette, Jiu-Jitsu exemplifies the harmony of controlled aggression and intellectual strategy.
Getting Started at Gracie Barra Is Easy: SCHEDULE YOUR FREE CLASS!
Gracie Barra River Oaks: Effective martial arts programs for kids of all ages!
Gracie Barra River Oaks: A Premier Martial Arts Academy in Houston!
Gracie Barra River Oaks is a premier martial arts academy located in Houston, Texas. Founded by Professor Ulpiano Malachias, a world-renowned Brazilian Jiu Jitsu practitioner, the academy offers top-notch training in Jiu Jitsu and mixed martial arts. Professor Malachias has been involved in athletics and martial arts from a young age, beginning with Judo at the age of 4 and then transitioning to Brazilian Jiu Jitsu at 17.
Under the leadership of Professor Malachias, Gracie Barra River Oaks has grown and expanded to a new, larger 10,000 sqft location in 2016. The academy offers a wide range of training programs to suit students of all levels, from beginners to advanced practitioners.
One of Professor Malachias greatest achievements is his success as a black belt competitor in the International Brazilian Jiu Jitsu Federation (IBJJF) competitions. He has won multiple championships and medals, including the Asian Championship in 2006, American National Championship in 2004, 2005, and 2008, and Pan American Championship Silver Medal in 2010, among others. He is also the 2022 IBJJF Jiu-Jitsu Championship Open Gold Medalist.
Gracie Barra River Oaks: Experience a new beginning on your Jiu-Jitsu journey!
Professor Malachias is committed to continuously improving his teaching skills and his own knowledge and skill in Jiu Jitsu. He is a certified IBJJF referee and has served as a referee in countless IBJJF tournaments, including some widely watched finals.
At Gracie Barra River Oaks, students have access to over 700 Gracie Barra Schools worldwide, professional-quality Jiu-Jitsu gear, and online resources to further their training. The academy promotes a holistic perspective to Jiu-Jitsu, including physical and mental wellness. All GB Schools are supervised by a Gracie Barra certified instructor, who supports students and helps each one achieve their potential through challenging training programs. Each class at Gracie Barra River Oaks is customized to offer maximum benefit for the students in attendance.
In summary, Gracie Barra River Oaks is a world-class martial arts academy with a strong commitment to excellence and dedication to Jiu-Jitsu. With Professor Ulpiano Malachias at the helm, students can expect top-notch training and support in their journey to becoming skilled practitioners of Jiu Jitsu and mixed martial arts.
Gracie Barra River Oaks: Effective martial arts programs for kids of all ages!

Route
| | |
| --- | --- |
| Monday | 06:00 - 21:00 |
| Tuesday | 06:00 - 21:00 |
| Wednesday | 06:30 - 21:00 |
| Thursday | 06:15 - 21:00 |
| Friday | 11:00 - 21:00 |
| Saturday | 09:00 - 13:00 |
| Sunday | 10:00 - 12:00 |