Being a successful athlete requires hard work, commitment, and discipline.
If you are an athlete who dreams of achieving success on the mat and reaching glory, there are three fundamental points to consider when building a successful routine.
In this essay, we will explore the importance of waking up early, training diligently, and maintaining a healthy diet as essential aspects of a champion athlete's routine.
Rise and Shine!
The first element of a champion athlete's routine is waking up early. Early mornings empower athletes to start their day with a positive focus and a winning mindset. Waking up early allows for extra training hours before the day comes to an end. By utilizing this time effectively, athletes can prioritize their physical and mental preparation, setting a productive tone for the rest of the day. This early start enables athletes to stay ahead of their competitors and maximize their training potential.
Training as the Driving Force!
Training serves as the gravitational force within a champion athlete's routine. It should consume the majority of their energy and time. Training sessions must include a diverse range of exercises to develop a broad spectrum of skills. It is crucial to maintain a balance between cardiovascular endurance, strength resistance, and mental conditioning. By focusing on these aspects, athletes can enhance their overall performance and increase their chances of achieving success in their chosen discipline.
Gracie Barra River Oaks: Experience a new beginning on your Jiu-Jitsu journey!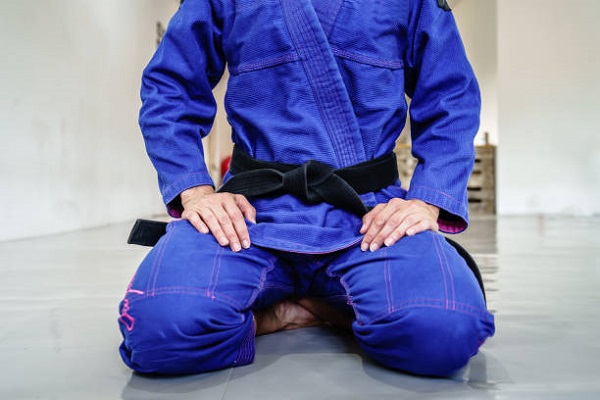 Nourishing with a Healthy Diet!
A healthy diet is another crucial component of a champion athlete's routine. Food should provide essential nutrients, energy, and vitamins to enhance performance. Opting for foods rich in vitamins and minerals is vital for muscle recovery and sustaining energy during long training sessions. A balanced diet should consist of lean proteins, whole grains, fruits, vegetables, and healthy fats. Adequate hydration is also essential for optimal performance. By fueling their bodies with the right nutrients, athletes can maintain their physical well-being, support their training efforts, and improve their overall athletic abilities.
The routine of a champion athlete revolves around three key elements: waking up early, dedicating ample time to training, and maintaining a healthy diet. By incorporating these fundamental aspects into their daily lives, athletes can set themselves up for success. Waking up early helps establish a positive mindset, while dedicated training enables the development of diverse skills and mental fortitude. Additionally, a nutritious diet ensures optimal physical performance and aids in muscle recovery. By adhering to these three points, athletes can build a routine that sets them on the path to becoming champions in their respective fields.
Getting Started at Gracie Barra Is Easy: SCHEDULE YOUR FREE CLASS!
Gracie Barra River Oaks: Effective martial arts programs for kids of all ages!
Gracie Barra River Oaks: A Premier Martial Arts Academy in Houston!
Gracie Barra River Oaks is a premier martial arts academy located in Houston, Texas. Founded by Professor Ulpiano Malachias, a world-renowned Brazilian Jiu Jitsu practitioner, the academy offers top-notch training in Jiu Jitsu and mixed martial arts. Professor Malachias has been involved in athletics and martial arts from a young age, beginning with Judo at the age of 4 and then transitioning to Brazilian Jiu Jitsu at 17.
Under the leadership of Professor Malachias, Gracie Barra River Oaks has grown and expanded to a new, larger 10,000 sqft location in 2016. The academy offers a wide range of training programs to suit students of all levels, from beginners to advanced practitioners.
One of Professor Malachias greatest achievements is his success as a black belt competitor in the International Brazilian Jiu Jitsu Federation (IBJJF) competitions. He has won multiple championships and medals, including the Asian Championship in 2006, American National Championship in 2004, 2005, and 2008, and Pan American Championship Silver Medal in 2010, among others. He is also the 2022 IBJJF Jiu-Jitsu Championship Open Gold Medalist.
Gracie Barra River Oaks: Experience a new beginning on your Jiu-Jitsu journey!
Professor Malachias is committed to continuously improving his teaching skills and his own knowledge and skill in Jiu Jitsu. He is a certified IBJJF referee and has served as a referee in countless IBJJF tournaments, including some widely watched finals.
At Gracie Barra River Oaks, students have access to over 700 Gracie Barra Schools worldwide, professional-quality Jiu-Jitsu gear, and online resources to further their training. The academy promotes a holistic perspective to Jiu-Jitsu, including physical and mental wellness. All GB Schools are supervised by a Gracie Barra certified instructor, who supports students and helps each one achieve their potential through challenging training programs. Each class at Gracie Barra River Oaks is customized to offer maximum benefit for the students in attendance.
In summary, Gracie Barra River Oaks is a world-class martial arts academy with a strong commitment to excellence and dedication to Jiu-Jitsu. With Professor Ulpiano Malachias at the helm, students can expect top-notch training and support in their journey to becoming skilled practitioners of Jiu Jitsu and mixed martial arts.
Gracie Barra River Oaks: Effective martial arts programs for kids of all ages!

Route
| | |
| --- | --- |
| Monday | 06:00 - 21:00 |
| Tuesday | 06:00 - 21:00 |
| Wednesday | 06:30 - 21:00 |
| Thursday | 06:15 - 21:00 |
| Friday | 11:00 - 21:00 |
| Saturday | 09:00 - 13:00 |
| Sunday | 10:00 - 12:00 |