Motherhood is undoubtedly a journey filled with challenges and changes, requiring a great deal of dedication and time. However, it is also a transformative experience that can bring immense personal growth and satisfaction. When it comes to practicing martial arts, such as Jiu-Jitsu, many mothers wonder if it is possible to conciliate their role as a parent with the physical demands and time commitment of training. Let's explore this topic further.
First and foremost, practicing Jiu-Jitsu can be an excellent way for mothers to stay physically active and maintain their overall health. Motherhood often involves a significant amount of physical strain, from carrying babies and toddlers to running after them as they explore the world. Engaging in regular Jiu-Jitsu training can help mothers build strength, flexibility, and cardiovascular endurance, which can be beneficial in their daily activities as parents.
Furthermore, Jiu-Jitsu offers numerous mental and emotional benefits that can greatly enhance a mother's well-being. The practice of this martial art cultivates important skills such as self-confidence, focus, and self-control. These qualities can be invaluable in dealing with the various challenges that come with motherhood, from making important decisions for their children to managing their own emotions and stress levels.
Gracie Barra River Oaks: Experience a new beginning on your Jiu-Jitsu journey!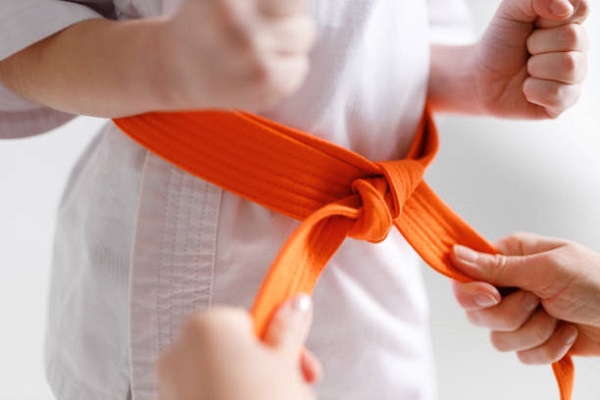 Additionally, participating in Jiu-Jitsu classes can provide an opportunity for mothers to connect with other women who share similar interests and experiences. This sense of camaraderie and support is especially crucial during the motherhood journey, as women may often feel isolated or struggle to find time for themselves. By joining a Jiu-Jitsu community, mothers can form meaningful relationships, exchange advice, and offer each other encouragement and understanding.
However, it is important for mothers to consult their healthcare professionals before embarking on any new physical activity, including Jiu-Jitsu. Pregnancy, childbirth, and postpartum recovery can vary from woman to woman, and it is essential to ensure that the body is ready for the demands of martial arts training. Additionally, seeking out a reputable and experienced Jiu-Jitsu academy that offers appropriate training for mothers is vital. Such an academy should have instructors who understand the unique needs and limitations of postpartum women and can provide a safe and supportive environment for their training.
Conciliating motherhood and Jiu-Jitsu is indeed possible, but it requires careful planning, consideration, and a supportive network. By engaging in this martial art, mothers can maintain their physical fitness, develop important life skills, and foster connections with other women facing similar challenges. With the right approach and support system in place, mothers can continue to pursue their passion for Jiu-Jitsu while nurturing their role as parents.
Getting Started at Gracie Barra Is Easy: SCHEDULE YOUR FREE CLASS!
Gracie Barra River Oaks: Effective martial arts programs for kids of all ages!
Gracie Barra River Oaks: A Premier Martial Arts Academy in Houston!
Gracie Barra River Oaks is a premier martial arts academy located in Houston, Texas. Founded by Professor Ulpiano Malachias, a world-renowned Brazilian Jiu Jitsu practitioner, the academy offers top-notch training in Jiu Jitsu and mixed martial arts. Professor Malachias has been involved in athletics and martial arts from a young age, beginning with Judo at the age of 4 and then transitioning to Brazilian Jiu Jitsu at 17.
Under the leadership of Professor Malachias, Gracie Barra River Oaks has grown and expanded to a new, larger 10,000 sqft location in 2016. The academy offers a wide range of training programs to suit students of all levels, from beginners to advanced practitioners.
One of Professor Malachias greatest achievements is his success as a black belt competitor in the International Brazilian Jiu Jitsu Federation (IBJJF) competitions. He has won multiple championships and medals, including the Asian Championship in 2006, American National Championship in 2004, 2005, and 2008, and Pan American Championship Silver Medal in 2010, among others. He is also the 2022 IBJJF Jiu-Jitsu Championship Open Gold Medalist.
Gracie Barra River Oaks: Experience a new beginning on your Jiu-Jitsu journey!
Professor Malachias is committed to continuously improving his teaching skills and his own knowledge and skill in Jiu Jitsu. He is a certified IBJJF referee and has served as a referee in countless IBJJF tournaments, including some widely watched finals.
At Gracie Barra River Oaks, students have access to over 700 Gracie Barra Schools worldwide, professional-quality Jiu-Jitsu gear, and online resources to further their training. The academy promotes a holistic perspective to Jiu-Jitsu, including physical and mental wellness. All GB Schools are supervised by a Gracie Barra certified instructor, who supports students and helps each one achieve their potential through challenging training programs. Each class at Gracie Barra River Oaks is customized to offer maximum benefit for the students in attendance.
In summary, Gracie Barra River Oaks is a world-class martial arts academy with a strong commitment to excellence and dedication to Jiu-Jitsu. With Professor Ulpiano Malachias at the helm, students can expect top-notch training and support in their journey to becoming skilled practitioners of Jiu Jitsu and mixed martial arts.
Gracie Barra River Oaks: Effective martial arts programs for kids of all ages!

Route
| | |
| --- | --- |
| Monday | 06:00 - 21:00 |
| Tuesday | 06:00 - 21:00 |
| Wednesday | 06:30 - 21:00 |
| Thursday | 06:15 - 21:00 |
| Friday | 11:00 - 21:00 |
| Saturday | 09:00 - 13:00 |
| Sunday | 10:00 - 12:00 |