Jiu-Jitsu for children isn't just about kicks and punches – it's a holistic approach to shaping young minds and bodies. With benefits ranging from improved concentration and discipline to enhanced self-esteem and physical health,
Kids' Jiu-Jitsu offers a comprehensive toolkit for young ones to navigate life's challenges. This article explores the profound impact of Jiu-Jitsu on children, focusing on its ability to foster personal growth, positive values, and a resilient spirit.
Empowering Children through Jiu-Jitsu!
The essence of Kids' Jiu-Jitsu extends beyond the dojo. Its primary goal is to equip children with essential life skills that empower them in various aspects of daily life. By engaging in the art, children refine their concentration, enhance discipline, and contribute to better health due to consistent body movement.
A Lesson Beyond Winning!
Martial arts, including Jiu-Jitsu, convey to children that the true essence lies not in winning, but in participating and giving their best effort. Rather than solely focusing on victory, children learn to approach challenges with a positive mindset and strive for personal improvement.
Valuable Life Lessons!
Within the realm of Jiu-Jitsu, young practitioners discover valuable life lessons. One of the cornerstones of the discipline is the understanding that success is defined by giving one's best effort without disregarding the well-being of others. Children absorb the concept that success is achieved through dedication, respect, and adherence to rules. In the martial arts arena, participants are celebrated for their commitment and sportsmanship, regardless of the final outcome.
Gracie Barra River Oaks: Experience a new beginning on your Jiu-Jitsu journey!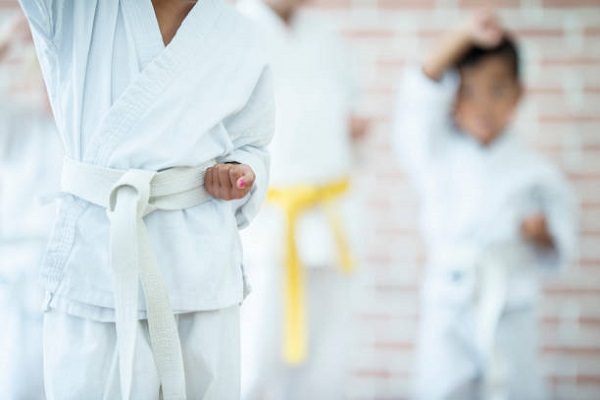 Learning from Every Experience!
Kids' Jiu-Jitsu instills a powerful notion: the value of learning from both victory and defeat. Children are encouraged to draw insights from every situation, be it a triumph or a setback. This philosophy promotes growth, resilience, and adaptability, building a foundation for navigating life's challenges with grace.
The Journey to a Strong Character!
Jiu-Jitsu's impact on children transcends the physical realm. It's a journey that shapes character, fosters teamwork, and cultivates essential life skills. The martial art teaches children to respect others, handle conflicts constructively, and embrace challenges as opportunities for personal development.
A Legacy of Values!
Through Kids' Jiu-Jitsu, children absorb values that extend far beyond the mats. They learn that success is not isolated but intertwined with integrity, kindness, and empathy. These values become guiding principles that shape their interactions, decisions, and contributions to society.
Empowering the Next Generation!
As the world evolves, children face a myriad of challenges. Kids' Jiu-Jitsu equips them with the tools to not only overcome hurdles but to flourish. By fostering discipline, resilience, and a positive outlook, Jiu-Jitsu empowers the next generation to lead with confidence, compassion, and a commitment to continuous growth.
Kids' Jiu-Jitsu is a transformative journey that nurtures young minds and bodies, creating a powerful impact that reverberates far beyond the dojo. By cultivating discipline, values, and resilience, children emerge from their training as empowered individuals ready to embrace life's challenges with determination and grace. As they learn to give their best effort, respect others, and draw insights from every experience, young Jiu-Jitsu practitioners embody a legacy of values that will shape their lives and communities for years to come.
Getting Started at Gracie Barra Is Easy: SCHEDULE YOUR FREE CLASS!
Gracie Barra River Oaks: Effective martial arts programs for kids of all ages!
Gracie Barra River Oaks: A Premier Martial Arts Academy in Houston!
Gracie Barra River Oaks is a premier martial arts academy located in Houston, Texas. Founded by Professor Ulpiano Malachias, a world-renowned Brazilian Jiu Jitsu practitioner, the academy offers top-notch training in Jiu Jitsu and mixed martial arts. Professor Malachias has been involved in athletics and martial arts from a young age, beginning with Judo at the age of 4 and then transitioning to Brazilian Jiu Jitsu at 17.
Under the leadership of Professor Malachias, Gracie Barra River Oaks has grown and expanded to a new, larger 10,000 sqft location in 2016. The academy offers a wide range of training programs to suit students of all levels, from beginners to advanced practitioners.
One of Professor Malachias greatest achievements is his success as a black belt competitor in the International Brazilian Jiu Jitsu Federation (IBJJF) competitions. He has won multiple championships and medals, including the Asian Championship in 2006, American National Championship in 2004, 2005, and 2008, and Pan American Championship Silver Medal in 2010, among others. He is also the 2022 IBJJF Jiu-Jitsu Championship Open Gold Medalist.
Gracie Barra River Oaks: Experience a new beginning on your Jiu-Jitsu journey!
Professor Malachias is committed to continuously improving his teaching skills and his own knowledge and skill in Jiu Jitsu. He is a certified IBJJF referee and has served as a referee in countless IBJJF tournaments, including some widely watched finals.
At Gracie Barra River Oaks, students have access to over 700 Gracie Barra Schools worldwide, professional-quality Jiu-Jitsu gear, and online resources to further their training. The academy promotes a holistic perspective to Jiu-Jitsu, including physical and mental wellness. All GB Schools are supervised by a Gracie Barra certified instructor, who supports students and helps each one achieve their potential through challenging training programs. Each class at Gracie Barra River Oaks is customized to offer maximum benefit for the students in attendance.
In summary, Gracie Barra River Oaks is a world-class martial arts academy with a strong commitment to excellence and dedication to Jiu-Jitsu. With Professor Ulpiano Malachias at the helm, students can expect top-notch training and support in their journey to becoming skilled practitioners of Jiu Jitsu and mixed martial arts.
Gracie Barra River Oaks: Effective martial arts programs for kids of all ages!

Route
| | |
| --- | --- |
| Monday | 06:00 - 21:00 |
| Tuesday | 06:00 - 21:00 |
| Wednesday | 06:30 - 21:00 |
| Thursday | 06:15 - 21:00 |
| Friday | 11:00 - 21:00 |
| Saturday | 09:00 - 13:00 |
| Sunday | 10:00 - 12:00 |