Jiu-jitsu is a martial art that has gained significant popularity in recent years, and while it is predominantly male-dominated, there is a growing movement to encourage more women to step onto the tatami (training mat) and experience the benefits of this martial art. However, there are several common reasons why women may hesitate to take their first steps into the world of jiu-jitsu.
One of the primary factors that can deter women from entering the jiu-jitsu realm is a feeling of embarrassment or self-consciousness. Walking into a predominantly male-dominated environment can be intimidating, especially for those who are unfamiliar with the sport. The fear of being judged or not living up to certain expectations can be a significant barrier. However, the jiu-jitsu community is increasingly recognizing the importance of creating inclusive and welcoming spaces for women, which can help alleviate these concerns.
Another obstacle that some women face is the presence of a jealous or controlling partner. Unfortunately, there are instances where significant others may veto their girlfriends or wives from participating in jiu-jitsu due to unfounded concerns of inappropriate physical contact. This not only restricts women's freedom but also perpetuates the stereotype that jiu-jitsu is solely a male activity. Encouraging open communication and dispelling misconceptions can help address this issue and ensure that women have the opportunity to explore jiu-jitsu if they desire.
Fear is yet another factor that can prevent women from stepping onto the tatami. The physicality and intensity of jiu-jitsu can be daunting, particularly for those who have never engaged in any form of martial arts before. The prospect of grappling with other practitioners, executing techniques, and potentially facing physical discomfort can be overwhelming. However, with proper guidance, support, and gradually increasing levels of training, women can overcome these fears and discover their own strength and capabilities.
Gracie Barra River Oaks: Experience a new beginning on your Jiu-Jitsu journey!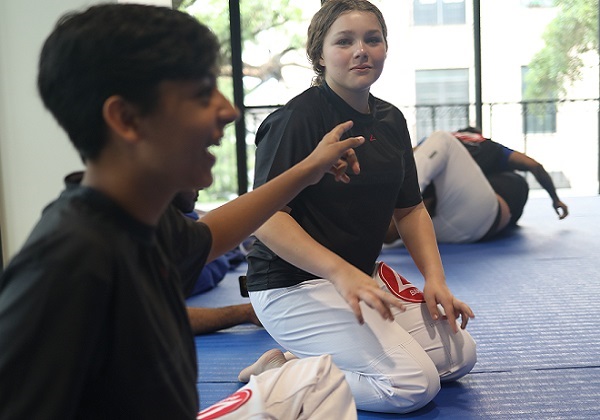 Finally, some women may hesitate to join jiu-jitsu simply because they feel uncomfortable being in the minority within a predominantly male environment. It is natural to desire a sense of belonging and camaraderie with individuals who share similar experiences and backgrounds. The establishment of women's-only training sessions has been instrumental in fostering a more comfortable and inclusive atmosphere for female practitioners. These sessions provide a supportive and empowering space where women can connect, share their journeys, and develop their skills together.
Despite the initial barriers that women may face when considering jiu-jitsu, it is crucial to recognize the immense potential for personal growth and empowerment that lies within this martial art. Female jiu-jitsu can serve as a gateway to a multitude of benefits, both physical and mental. Training in jiu-jitsu enhances self-defense skills, improves physical fitness, builds self-confidence, and promotes mental resilience. Moreover, it provides a platform for women to challenge societal norms and break through gender stereotypes.
As women become more comfortable and confident in their jiu-jitsu journey, many choose to transition to mixed-gender training sessions. By doing so, they further expand their horizons, enhance their technical proficiency, and develop valuable bonds with a diverse range of training partners. This gradual progression not only strengthens the jiu-jitsu community as a whole but also serves as an inspiration for future generations of female practitioners.
In conclusion, while there are various reasons why women may initially hesitate to step onto the jiu-jitsu tatami, it is important to recognize the transformative potential that this martial art holds for them. By addressing concerns such as embarrassment, controlling partners, fear, and discomfort in a male-dominated environment, jiu-jitsu can serve as a gateway to personal growth, empowerment, and a stronger sense of self. Creating inclusive spaces, providing support, and fostering a supportive community are crucial steps towards encouraging more women to embrace the art of jiu-jitsu and all the benefits it has to offer.
Getting Started at Gracie Barra Is Easy: SCHEDULE YOUR FREE CLASS!
Gracie Barra River Oaks: Effective martial arts programs for kids of all ages!
Gracie Barra River Oaks: A Premier Martial Arts Academy in Houston!
Gracie Barra River Oaks is a premier martial arts academy located in Houston, Texas. Founded by Professor Ulpiano Malachias, a world-renowned Brazilian Jiu Jitsu practitioner, the academy offers top-notch training in Jiu Jitsu and mixed martial arts. Professor Malachias has been involved in athletics and martial arts from a young age, beginning with Judo at the age of 4 and then transitioning to Brazilian Jiu Jitsu at 17.
Under the leadership of Professor Malachias, Gracie Barra River Oaks has grown and expanded to a new, larger 10,000 sqft location in 2016. The academy offers a wide range of training programs to suit students of all levels, from beginners to advanced practitioners.
One of Professor Malachias greatest achievements is his success as a black belt competitor in the International Brazilian Jiu Jitsu Federation (IBJJF) competitions. He has won multiple championships and medals, including the Asian Championship in 2006, American National Championship in 2004, 2005, and 2008, and Pan American Championship Silver Medal in 2010, among others. He is also the 2022 IBJJF Jiu-Jitsu Championship Open Gold Medalist.
Gracie Barra River Oaks: Experience a new beginning on your Jiu-Jitsu journey!
Professor Malachias is committed to continuously improving his teaching skills and his own knowledge and skill in Jiu Jitsu. He is a certified IBJJF referee and has served as a referee in countless IBJJF tournaments, including some widely watched finals.
At Gracie Barra River Oaks, students have access to over 700 Gracie Barra Schools worldwide, professional-quality Jiu-Jitsu gear, and online resources to further their training. The academy promotes a holistic perspective to Jiu-Jitsu, including physical and mental wellness. All GB Schools are supervised by a Gracie Barra certified instructor, who supports students and helps each one achieve their potential through challenging training programs. Each class at Gracie Barra River Oaks is customized to offer maximum benefit for the students in attendance.
In summary, Gracie Barra River Oaks is a world-class martial arts academy with a strong commitment to excellence and dedication to Jiu-Jitsu. With Professor Ulpiano Malachias at the helm, students can expect top-notch training and support in their journey to becoming skilled practitioners of Jiu Jitsu and mixed martial arts.
Gracie Barra River Oaks: Effective martial arts programs for kids of all ages!

Route
| | |
| --- | --- |
| Monday | 06:00 - 21:00 |
| Tuesday | 06:00 - 21:00 |
| Wednesday | 06:30 - 21:00 |
| Thursday | 06:15 - 21:00 |
| Friday | 11:00 - 21:00 |
| Saturday | 09:00 - 13:00 |
| Sunday | 10:00 - 12:00 |