For countless beginners and enthusiasts of the captivating martial art known as Jiu-Jitsu, the intricacies of its rules often remain shrouded in mystery.
Questions abound regarding the conclusion of a match, permissible maneuvers, and the essential conduct that transforms a contest into a fair and respectful engagement.
Undoubtedly, the tatami, the traditional training surface of Jiu-Jitsu, is steeped in discipline and principles.
Fundamental to all, it's crucial to grasp that what is instilled during training sessions is unconditionally translated to competition, irrespective of whether it's on the national or international stage.
Jiu-Jitsu's Evolution and the Role of Rules!
While Jiu-Jitsu made its mark in the realm of no-holds-barred combat, where rules were scant and, in its infancy, nearly non-existent, rules are now paramount within the competitive arena. These regulations serve as both guidelines and safeguards for athletes. Illegal strikes and actions lead to disqualification, tarnishing the reputation of those who seek victory at any cost. In martial arts, controlled combat forms an integral part of learning and is pivotal to reinforcing the acquired techniques.
Competitions afford fighters the opportunity to exert themselves fully, unburdened by grave injuries or the threat of dangerous moves that could jeopardize their own or their opponent's well-being. The presence of a referee ensures fair play, and alongside these rules, a competitive spirit that embodies values of courtesy, honor, and good manners is nurtured. These values are intrinsically linked with the ethos of Eastern martial knowledge, from which Jiu-Jitsu draws its deep roots.
Gracie Barra River Oaks: Experience a new beginning on your Jiu-Jitsu journey!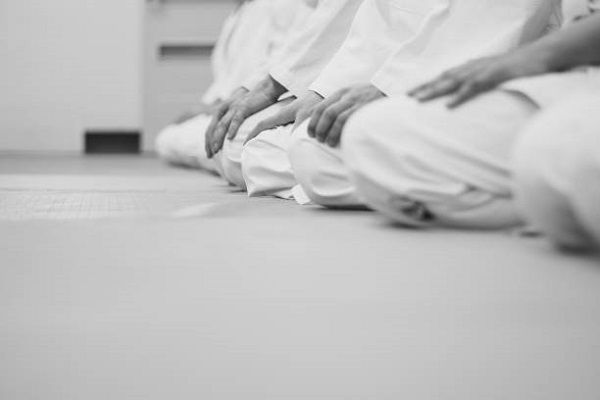 The Bridge Between Training and Competition!
Translating techniques from the training hall to the competitive arena is a fundamental aspect of Jiu-Jitsu's progression. As practitioners evolve, their journey naturally leads them to test their skills in a controlled and structured environment. This transition embodies the essence of Jiu-Jitsu's philosophy — respect for self and others, discipline, and self-improvement.
The Role of Rules in Safety!
In contrast to the lawless origins of the sport, today's Jiu-Jitsu competitions prioritize safety and well-being. Rules are designed not only to level the playing field but also to protect participants from unnecessary risks. This emphasis on safety complements the educational aspect of the sport, reinforcing its longevity and encouraging a broader range of participants.
Jiu-Jitsu, a martial art deeply rooted in Eastern tradition and philosophy, has evolved from its raw origins to embrace structured rules and competitions. These regulations, while ensuring fair play, also protect athletes and promote a spirit of honorable competition.
By upholding the principles of respect, discipline, and continuous improvement, Jiu-Jitsu practitioners bridge the gap between rigorous training and spirited competition, embodying the essence of this remarkable martial art. So, whether you're a seasoned practitioner or a newcomer to the art, remember that within the controlled confines of the tatami, Jiu-Jitsu transcends physical combat to become a profound journey of self-discovery and growth.
Getting Started at Gracie Barra Is Easy: SCHEDULE YOUR FREE CLASS!
Gracie Barra River Oaks: Effective martial arts programs for kids of all ages!
Gracie Barra River Oaks: A Premier Martial Arts Academy in Houston!
Gracie Barra River Oaks is a premier martial arts academy located in Houston, Texas. Founded by Professor Ulpiano Malachias, a world-renowned Brazilian Jiu Jitsu practitioner, the academy offers top-notch training in Jiu Jitsu and mixed martial arts. Professor Malachias has been involved in athletics and martial arts from a young age, beginning with Judo at the age of 4 and then transitioning to Brazilian Jiu Jitsu at 17.
Under the leadership of Professor Malachias, Gracie Barra River Oaks has grown and expanded to a new, larger 10,000 sqft location in 2016. The academy offers a wide range of training programs to suit students of all levels, from beginners to advanced practitioners.
One of Professor Malachias greatest achievements is his success as a black belt competitor in the International Brazilian Jiu Jitsu Federation (IBJJF) competitions. He has won multiple championships and medals, including the Asian Championship in 2006, American National Championship in 2004, 2005, and 2008, and Pan American Championship Silver Medal in 2010, among others. He is also the 2022 IBJJF Jiu-Jitsu Championship Open Gold Medalist.
Gracie Barra River Oaks: Experience a new beginning on your Jiu-Jitsu journey!
Professor Malachias is committed to continuously improving his teaching skills and his own knowledge and skill in Jiu Jitsu. He is a certified IBJJF referee and has served as a referee in countless IBJJF tournaments, including some widely watched finals.
At Gracie Barra River Oaks, students have access to over 700 Gracie Barra Schools worldwide, professional-quality Jiu-Jitsu gear, and online resources to further their training. The academy promotes a holistic perspective to Jiu-Jitsu, including physical and mental wellness. All GB Schools are supervised by a Gracie Barra certified instructor, who supports students and helps each one achieve their potential through challenging training programs. Each class at Gracie Barra River Oaks is customized to offer maximum benefit for the students in attendance.
In summary, Gracie Barra River Oaks is a world-class martial arts academy with a strong commitment to excellence and dedication to Jiu-Jitsu. With Professor Ulpiano Malachias at the helm, students can expect top-notch training and support in their journey to becoming skilled practitioners of Jiu Jitsu and mixed martial arts.
Gracie Barra River Oaks: Effective martial arts programs for kids of all ages!

Route
| | |
| --- | --- |
| Monday | 06:00 - 21:00 |
| Tuesday | 06:00 - 21:00 |
| Wednesday | 06:30 - 21:00 |
| Thursday | 06:15 - 21:00 |
| Friday | 11:00 - 21:00 |
| Saturday | 09:00 - 13:00 |
| Sunday | 10:00 - 12:00 |