The realm of combat sports has witnessed a remarkable shift, with women increasingly embracing and thriving within its ranks.
Beyond being both exhilarating and challenging, these disciplines offer an avenue for nurturing physical health and overall well-being. A prime example of this is Jiu-Jitsu, a martial art that not only empowers but also holds the keys to swift transformation and enhan!ced health benefits for women.
Empowerment in Action: Jiu-Jitsu for Women
The allure of Jiu-Jitsu for women goes beyond its physical demands – it fosters empowerment. As they step onto the mat, women embark on a journey of self-discovery and self-assurance. The satisfaction of mastering techniques and overcoming challenges instills a sense of accomplishment that reverberates into other aspects of life.
A Wholesome Path to Health!
Among jiu jitsu many attributes, its capacity to expedite weight loss stands out. Engaging in an hour of jiu jitsu training can lead to burning up to a staggering 1000 calories. This not only aids in shedding excess weight but also contributes to lowering blood pressure, managing blood sugar levels, and improving overall cardiovascular health.
In addition to weight loss, jiu jitsu is a catalyst for a range of physical benefits. The rigorous training builds muscular strength, enhances flexibility, and cultivates a robust core. This all-encompassing approach results in heightened self-confidence, reduced stress, and a notable improvement in overall quality of life.
Gracie Barra River Oaks: Experience a new beginning on your Jiu-Jitsu journey!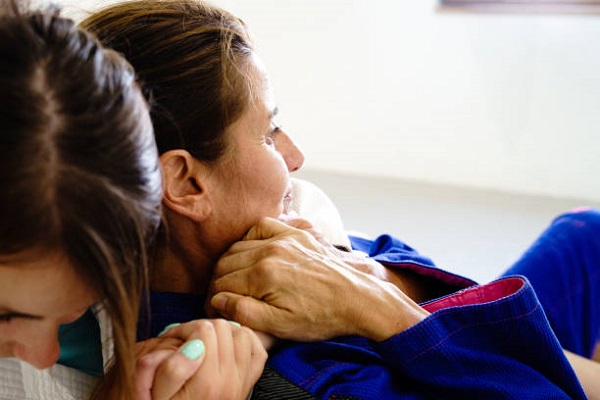 The Science of Transformation: Calorie-Burning Potential!
The evidence backing jiu jitsu effectiveness as a weight loss tool is compelling. Its demanding nature elevates the heart rate, intensifying the calorie burn process. The elevated effort required during jiu jitsu training results in a substantial post-workout calorie burn, effectively targeting and dismantling stubborn fat deposits.
Gentle on the Joints: A Low-Impact Fitness Solution!
Remarkably, jiu jitsu high-intensity training is also gentle on the joints, making it an accessible choice for women of all ages. This low-impact exercise ensures that practitioners can engage in rigorous training without compromising joint health.
Elevating Metabolism: Long-Term Impact!
The aerobic and anaerobic aspects of jiu jitsu work in harmony to maintain an elevated metabolism, ensuring continued calorie burn even after the training session concludes. This extended calorie-burning effect optimizes fat loss, ultimately contributing to a leaner physique.
A Journey of Empowerment and Transformation!
Jiu-Jitsu is more than a sport; it's a transformative experience for women. Beyond physical benefits, it empowers women to push boundaries, embrace challenges, and achieve a level of self-assuredness that extends far beyond the mat. As women continue to carve their path in the combat sports arena, Jiu-Jitsu emerges as a powerful tool for unlocking holistic well-being and affirming that strength knows no gender boundaries.
Getting Started at Gracie Barra Is Easy: SCHEDULE YOUR FREE CLASS!
Gracie Barra River Oaks: Effective martial arts programs for kids of all ages!
Gracie Barra River Oaks: A Premier Martial Arts Academy in Houston!
Gracie Barra River Oaks is a premier martial arts academy located in Houston, Texas. Founded by Professor Ulpiano Malachias, a world-renowned Brazilian Jiu Jitsu practitioner, the academy offers top-notch training in Jiu Jitsu and mixed martial arts. Professor Malachias has been involved in athletics and martial arts from a young age, beginning with Judo at the age of 4 and then transitioning to Brazilian Jiu Jitsu at 17.
Under the leadership of Professor Malachias, Gracie Barra River Oaks has grown and expanded to a new, larger 10,000 sqft location in 2016. The academy offers a wide range of training programs to suit students of all levels, from beginners to advanced practitioners.
One of Professor Malachias greatest achievements is his success as a black belt competitor in the International Brazilian Jiu Jitsu Federation (IBJJF) competitions. He has won multiple championships and medals, including the Asian Championship in 2006, American National Championship in 2004, 2005, and 2008, and Pan American Championship Silver Medal in 2010, among others. He is also the 2022 IBJJF Jiu-Jitsu Championship Open Gold Medalist.
Gracie Barra River Oaks: Experience a new beginning on your Jiu-Jitsu journey!
Professor Malachias is committed to continuously improving his teaching skills and his own knowledge and skill in Jiu Jitsu. He is a certified IBJJF referee and has served as a referee in countless IBJJF tournaments, including some widely watched finals.
At Gracie Barra River Oaks, students have access to over 700 Gracie Barra Schools worldwide, professional-quality Jiu-Jitsu gear, and online resources to further their training. The academy promotes a holistic perspective to Jiu-Jitsu, including physical and mental wellness. All GB Schools are supervised by a Gracie Barra certified instructor, who supports students and helps each one achieve their potential through challenging training programs. Each class at Gracie Barra River Oaks is customized to offer maximum benefit for the students in attendance.
In summary, Gracie Barra River Oaks is a world-class martial arts academy with a strong commitment to excellence and dedication to Jiu-Jitsu. With Professor Ulpiano Malachias at the helm, students can expect top-notch training and support in their journey to becoming skilled practitioners of Jiu Jitsu and mixed martial arts.
Gracie Barra River Oaks: Effective martial arts programs for kids of all ages!

Route
| | |
| --- | --- |
| Monday | 06:00 - 21:00 |
| Tuesday | 06:00 - 21:00 |
| Wednesday | 06:30 - 21:00 |
| Thursday | 06:15 - 21:00 |
| Friday | 11:00 - 21:00 |
| Saturday | 09:00 - 13:00 |
| Sunday | 10:00 - 12:00 |