One of the valuable life lessons that children can learn through practicing Jiu-Jitsu is how to handle both victories and defeats. As they embark on their Jiu-Jitsu journey, children experience a range of emotions from the thrill of mastering new techniques to the satisfaction of progressing through belt ranks and winning competitions. However, it's crucial to understand that winning in Jiu-Jitsu, just like in life, does not involve hurting or stepping on others. It's about personal growth and learning from every experience, regardless of the outcome.
Participating in Jiu-Jitsu tournaments presents an opportunity for children to understand that both winning and losing are integral aspects of sports and life in general. They come to realize that not everything will go their way, and that's okay. In fact, it's in moments of defeat that some of the most profound lessons are learned. When faced with a loss, children learn resilience, perseverance, and the importance of embracing challenges as stepping stones to improvement.
Through these experiences, children gradually develop a deep-rooted sense of self-confidence. They come to appreciate that their worth is not solely tied to winning, but rather in their determination to keep pushing forward. With time, this confidence extends beyond the mats of Jiu-Jitsu and into their daily lives. They become more capable of handling difficult situations, resolving problems, and facing challenges head-on.
Gracie Barra River Oaks: Experience a new beginning on your Jiu-Jitsu journey!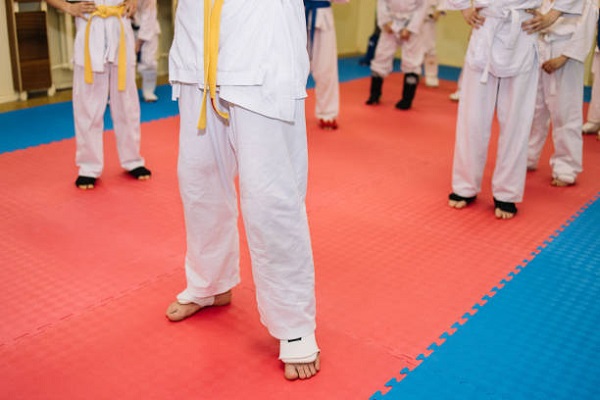 The environment of a Jiu-Jitsu class fosters a culture of support and camaraderie, where children learn to both win and lose gracefully. Coaches and fellow practitioners celebrate victories together, emphasizing the importance of humility and respect in victory. Likewise, when experiencing defeat, children are encouraged and uplifted, learning that failure does not define them, but rather serves as an opportunity for growth and self-improvement.
Ultimately, the journey of Jiu-Jitsu is not solely about becoming the best fighter but also about developing character and mental fortitude. The art of Jiu-Jitsu teaches children valuable life skills, such as resilience, discipline, and emotional intelligence. It provides a safe space for them to explore their limits, build self-esteem, and grow into confident individuals who are prepared to face life's challenges with courage and determination.
In conclusion, Jiu-Jitsu offers children much more than physical fitness; it instills vital life lessons, such as dealing with wins and losses, increasing self-confidence, and developing essential qualities for personal growth. The journey on the Jiu-Jitsu mats equips children with the tools they need to navigate the complexities of life, teaching them to embrace challenges, celebrate successes, and emerge stronger and more confident individuals.
Getting Started at Gracie Barra Is Easy: SCHEDULE YOUR FREE CLASS!
Gracie Barra River Oaks: Effective martial arts programs for kids of all ages!
Gracie Barra River Oaks: A Premier Martial Arts Academy in Houston!
Gracie Barra River Oaks is a premier martial arts academy located in Houston, Texas. Founded by Professor Ulpiano Malachias, a world-renowned Brazilian Jiu Jitsu practitioner, the academy offers top-notch training in Jiu Jitsu and mixed martial arts. Professor Malachias has been involved in athletics and martial arts from a young age, beginning with Judo at the age of 4 and then transitioning to Brazilian Jiu Jitsu at 17.
Under the leadership of Professor Malachias, Gracie Barra River Oaks has grown and expanded to a new, larger 10,000 sqft location in 2016. The academy offers a wide range of training programs to suit students of all levels, from beginners to advanced practitioners.
One of Professor Malachias greatest achievements is his success as a black belt competitor in the International Brazilian Jiu Jitsu Federation (IBJJF) competitions. He has won multiple championships and medals, including the Asian Championship in 2006, American National Championship in 2004, 2005, and 2008, and Pan American Championship Silver Medal in 2010, among others. He is also the 2022 IBJJF Jiu-Jitsu Championship Open Gold Medalist.
Gracie Barra River Oaks: Experience a new beginning on your Jiu-Jitsu journey!
Professor Malachias is committed to continuously improving his teaching skills and his own knowledge and skill in Jiu Jitsu. He is a certified IBJJF referee and has served as a referee in countless IBJJF tournaments, including some widely watched finals.
At Gracie Barra River Oaks, students have access to over 700 Gracie Barra Schools worldwide, professional-quality Jiu-Jitsu gear, and online resources to further their training. The academy promotes a holistic perspective to Jiu-Jitsu, including physical and mental wellness. All GB Schools are supervised by a Gracie Barra certified instructor, who supports students and helps each one achieve their potential through challenging training programs. Each class at Gracie Barra River Oaks is customized to offer maximum benefit for the students in attendance.
In summary, Gracie Barra River Oaks is a world-class martial arts academy with a strong commitment to excellence and dedication to Jiu-Jitsu. With Professor Ulpiano Malachias at the helm, students can expect top-notch training and support in their journey to becoming skilled practitioners of Jiu Jitsu and mixed martial arts.
Gracie Barra River Oaks: Effective martial arts programs for kids of all ages!

Route
| | |
| --- | --- |
| Monday | 06:00 - 21:00 |
| Tuesday | 06:00 - 21:00 |
| Wednesday | 06:30 - 21:00 |
| Thursday | 06:15 - 21:00 |
| Friday | 11:00 - 21:00 |
| Saturday | 09:00 - 13:00 |
| Sunday | 10:00 - 12:00 |