Like many other sports with a predominantly male environment, Jiu Jitsu has been gaining space for female warriors. Initially, many are afraid to simply enroll in a gym and start a Jiu Jitsu class. Many go to accompany spouses, boyfriends or even friends who already train and end up getting to know the gentle art and are enchanted.
What is seen a lot among women is that they are recommended to practice Jiu Jitsu to gain access to developing self-defense, but what they end up discovering is that the modality is much more than that, that it really is not just learning self-defense, the modality awakens much more in them and that with all the female dedication achieves much more results in their lives.
Gracie Barra River Oaks: Experience a new beginning on your Jiu-Jitsu journey!
Women can choose jiu-jitsu as a martial art and adapt to their practice by following these tips:
Find a women-friendly gym: Look for a gym that has a good representation of women practitioners and has female instructors. This can create a more comfortable environment for women to train and learn without feeling intimidated or isolated.
Start slow: It's important to start slow and not overexert oneself. This will help prevent injuries and allow the body to adapt to the new physical demands of jiu-jitsu.
Learn the basics: Focus on learning the fundamentals of jiu-jitsu before moving on to more advanced techniques. This can help build a solid foundation and increase confidence.
Gracie Barra River Oaks: Effective martial arts programs for kids of all ages!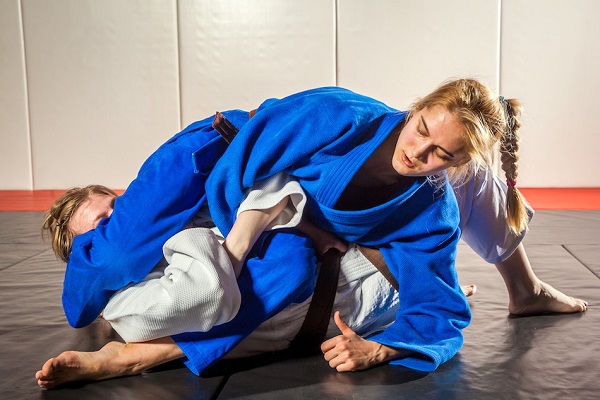 Find a training partner: Find a training partner that is at a similar skill level and can offer support and encouragement. This can also help to build a sense of camaraderie and a support system.
Use technique over strength: Jiu-jitsu is a martial art that emphasizes technique over strength, so women can utilize their natural advantages, such as flexibility and agility, to their advantage.
Practice self-care: It's important to take care of one's body through proper nutrition, hydration, and recovery. This can help prevent injury and increase overall performance.
Have fun: Jiu-jitsu can be a challenging and rewarding martial art. Women can enjoy the process of learning and improving their skills while building relationships with their training partners.
Getting Started at Gracie Barra Is Easy: SCHEDULE YOUR FREE CLASS!
Gracie Barra River Oaks: Effective martial arts programs for kids of all ages!
Gracie Barra River Oaks: A Premier Martial Arts Academy in Houston!
Gracie Barra River Oaks is a premier martial arts academy located in Houston, Texas. Founded by Professor Ulpiano Malachias, a world-renowned Brazilian Jiu Jitsu practitioner, the academy offers top-notch training in Jiu Jitsu and mixed martial arts. Professor Malachias has been involved in athletics and martial arts from a young age, beginning with Judo at the age of 4 and then transitioning to Brazilian Jiu Jitsu at 17.
Under the leadership of Professor Malachias, Gracie Barra River Oaks has grown and expanded to a new, larger 10,000 sqft location in 2016. The academy offers a wide range of training programs to suit students of all levels, from beginners to advanced practitioners.
One of Professor Malachias greatest achievements is his success as a black belt competitor in the International Brazilian Jiu Jitsu Federation (IBJJF) competitions. He has won multiple championships and medals, including the Asian Championship in 2006, American National Championship in 2004, 2005, and 2008, and Pan American Championship Silver Medal in 2010, among others. He is also the 2022 IBJJF Jiu-Jitsu Championship Open Gold Medalist.
Gracie Barra River Oaks: Experience a new beginning on your Jiu-Jitsu journey!
Professor Malachias is committed to continuously improving his teaching skills and his own knowledge and skill in Jiu Jitsu. He is a certified IBJJF referee and has served as a referee in countless IBJJF tournaments, including some widely watched finals.
At Gracie Barra River Oaks, students have access to over 700 Gracie Barra Schools worldwide, professional-quality Jiu-Jitsu gear, and online resources to further their training. The academy promotes a holistic perspective to Jiu-Jitsu, including physical and mental wellness. All GB Schools are supervised by a Gracie Barra certified instructor, who supports students and helps each one achieve their potential through challenging training programs. Each class at Gracie Barra River Oaks is customized to offer maximum benefit for the students in attendance.
In summary, Gracie Barra River Oaks is a world-class martial arts academy with a strong commitment to excellence and dedication to Jiu-Jitsu. With Professor Ulpiano Malachias at the helm, students can expect top-notch training and support in their journey to becoming skilled practitioners of Jiu Jitsu and mixed martial arts.
Gracie Barra River Oaks: Effective martial arts programs for kids of all ages!

Route
| | |
| --- | --- |
| Monday | 06:00 - 21:00 |
| Tuesday | 06:00 - 21:00 |
| Wednesday | 06:30 - 21:00 |
| Thursday | 06:15 - 21:00 |
| Friday | 11:00 - 21:00 |
| Saturday | 09:00 - 13:00 |
| Sunday | 10:00 - 12:00 |