Women who practice jiu-jitsu have the power to inspire and empower younger girls in numerous ways. Their dedication, resilience, and achievements serve as a source of inspiration, breaking stereotypes and encouraging young girls to pursue their passions fearlessly. By embodying strength, confidence, and determination, female jiu-jitsu practitioners become role models who can positively impact the lives of younger girls.
Firstly, women who practice jiu-jitsu challenge traditional gender norms and demonstrate that physical strength and competitiveness are not limited to men. In a society where gender stereotypes still persist, seeing women confidently engage in a combat sport like jiu-jitsu can reshape perceptions and expand the realm of possibilities for younger girls. By defying expectations and excelling in a traditionally male-dominated field, these women encourage young girls to explore their potential without restrictions.
Furthermore, women in jiu-jitsu showcase the importance of self-defense and personal safety. Jiu-jitsu empowers individuals with practical skills to protect themselves in potentially threatening situations. By witnessing women confidently navigate the art of self-defense, younger girls can develop a sense of empowerment and learn the importance of personal safety. This can instill in them a sense of confidence and independence, allowing them to navigate the world with greater self-assurance.
Additionally, female jiu-jitsu practitioners serve as advocates for inclusivity and diversity. The jiu-jitsu community promotes an environment that embraces people of all backgrounds, sizes, and abilities. Women who practice jiu-jitsu embody this inclusivity, showing younger girls that they too can find acceptance, support, and camaraderie in this martial art. This inclusivity inspires younger girls to embrace their unique qualities and encourages them to pursue their passions, regardless of societal expectations or limitations.
Gracie Barra River Oaks: Experience a new beginning on your Jiu-Jitsu journey!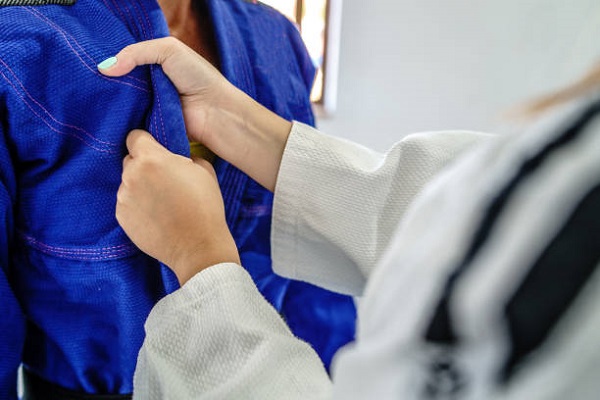 Moreover, women who practice jiu-jitsu embody the values of discipline, perseverance, and resilience. The rigorous training required in jiu-jitsu demands dedication and a strong work ethic. Through their commitment and hard work, female practitioners demonstrate the rewards that come with determination and perseverance. This serves as a valuable lesson for younger girls, teaching them the importance of setting goals, overcoming challenges, and never giving up in the face of adversity.
Lastly, women in jiu-jitsu provide younger girls with a network of support and mentorship.
Female practitioners often form tight-knit communities that foster mentorship and empowerment. Younger girls who aspire to practice jiu-jitsu can find role models and mentors within these communities who can guide them on their journey. The support and encouragement received from experienced female practitioners can significantly impact the confidence and progress of younger girls, fueling their passion and commitment to the sport.
In conclusion, women who practice jiu-jitsu possess the ability to inspire and empower younger girls through their actions, achievements, and values. By challenging stereotypes, promoting inclusivity, and embodying resilience, they serve as role models who encourage younger girls to explore their potential, embrace their uniqueness, and pursue their dreams. The influence of these women extends beyond the mats, creating a positive ripple effect that empowers future generations of girls to stand tall, break barriers, and find their own strength and confidence.
Getting Started at Gracie Barra Is Easy: SCHEDULE YOUR FREE CLASS!
Gracie Barra River Oaks: Effective martial arts programs for kids of all ages!
Gracie Barra River Oaks: A Premier Martial Arts Academy in Houston!
Gracie Barra River Oaks is a premier martial arts academy located in Houston, Texas. Founded by Professor Ulpiano Malachias, a world-renowned Brazilian Jiu Jitsu practitioner, the academy offers top-notch training in Jiu Jitsu and mixed martial arts. Professor Malachias has been involved in athletics and martial arts from a young age, beginning with Judo at the age of 4 and then transitioning to Brazilian Jiu Jitsu at 17.
Under the leadership of Professor Malachias, Gracie Barra River Oaks has grown and expanded to a new, larger 10,000 sqft location in 2016. The academy offers a wide range of training programs to suit students of all levels, from beginners to advanced practitioners.
One of Professor Malachias greatest achievements is his success as a black belt competitor in the International Brazilian Jiu Jitsu Federation (IBJJF) competitions. He has won multiple championships and medals, including the Asian Championship in 2006, American National Championship in 2004, 2005, and 2008, and Pan American Championship Silver Medal in 2010, among others. He is also the 2022 IBJJF Jiu-Jitsu Championship Open Gold Medalist.
Gracie Barra River Oaks: Experience a new beginning on your Jiu-Jitsu journey!
Professor Malachias is committed to continuously improving his teaching skills and his own knowledge and skill in Jiu Jitsu. He is a certified IBJJF referee and has served as a referee in countless IBJJF tournaments, including some widely watched finals.
At Gracie Barra River Oaks, students have access to over 700 Gracie Barra Schools worldwide, professional-quality Jiu-Jitsu gear, and online resources to further their training. The academy promotes a holistic perspective to Jiu-Jitsu, including physical and mental wellness. All GB Schools are supervised by a Gracie Barra certified instructor, who supports students and helps each one achieve their potential through challenging training programs. Each class at Gracie Barra River Oaks is customized to offer maximum benefit for the students in attendance.
In summary, Gracie Barra River Oaks is a world-class martial arts academy with a strong commitment to excellence and dedication to Jiu-Jitsu. With Professor Ulpiano Malachias at the helm, students can expect top-notch training and support in their journey to becoming skilled practitioners of Jiu Jitsu and mixed martial arts.
Gracie Barra River Oaks: Effective martial arts programs for kids of all ages!

Route
| | |
| --- | --- |
| Monday | 06:00 - 21:00 |
| Tuesday | 06:00 - 21:00 |
| Wednesday | 06:30 - 21:00 |
| Thursday | 06:15 - 21:00 |
| Friday | 11:00 - 21:00 |
| Saturday | 09:00 - 13:00 |
| Sunday | 10:00 - 12:00 |