Jiu-Jitsu, renowned for its emphasis on technique over brute strength, is one of the most effective forms of self-defense, particularly suited for women.
However, the notion that Jiu-Jitsu is exclusively for women is far from the truth. Jiu-Jitsu is a discipline that welcomes all practitioners, transcending gender boundaries.
In a world where alarming statistics reveal the prevalence of violence against women, Jiu-Jitsu emerges as a crucial tool for empowerment and self-protection.
Jiu-Jitsu: Not Just a Sport, but a Lifeline: As societies grapple with the unsettling reality of violence against women, Jiu-Jitsu emerges as a beacon of hope and empowerment. In a country where a quarter of women have fallen victim to various forms of violence and eight women are physically assaulted every minute during a pandemic, self-defense becomes an imperative topic of discussion.
Why Jiu-Jitsu is Essential for Women's Self-Defense: Women often find themselves in situations of distress and vulnerability during instances of aggression. In many cases, they may be physically smaller than their attackers. This is where the transformative power of Jiu-Jitsu comes into play. Beyond teaching calmness under pressure, it equips individuals with techniques tailored for every scenario. Jiu-Jitsu, uniquely, utilizes an opponent's strength and weight against them, enabling practitioners to execute maneuvers such as throwing their opponent to the ground.
Gracie Barra River Oaks: Experience a new beginning on your Jiu-Jitsu journey!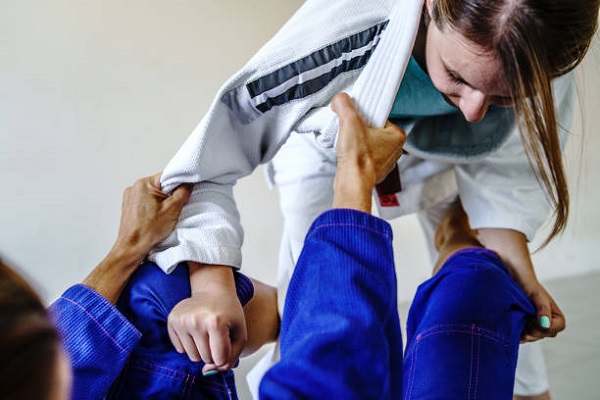 Unleashing the Techniques of Empowerment: In Jiu-Jitsu, strikes to sensitive areas, such as the genitals, biting, hair pulling, and the like, are prohibited. However, in the realm of self-defense, the art takes on a new dimension. Techniques are geared towards immobilization and neutralization, encompassing chokes and joint locks that disable assailants effectively.
Students master the art of manipulating their opponent's limbs, targeting areas like arms, ankles, and wrists. They learn to escape holds, hair pulls, and chokeholds. Beyond offense, self-defense entails a mastery of evasion techniques, as well as the skill to counterattack with precision.
Jiu-Jitsu Empowerment Beyond the Mat: The essence of Jiu-Jitsu's teachings extends beyond the confines of the training mat. As women embrace this discipline, they not only gain physical skills but also cultivate mental resilience and confidence. The ability to protect oneself naturally fosters a sense of empowerment, resulting in improved self-esteem and a heightened sense of security.
Jiu-Jitsu is a transformative force, equipping women with skills that transcend self-defense and extend into every facet of life. As a versatile discipline that champions technique and intelligence over raw force, it empowers women to stand up against adversity and take control of their safety.
In a world where self-defense is a pressing need, Jiu-Jitsu becomes a path to strength, resilience, and empowerment. So, whether you're a woman seeking personal security or an advocate for change, remember that Jiu-Jitsu isn't just a martial art—it's a powerful tool for shaping a safer future.
Getting Started at Gracie Barra Is Easy: SCHEDULE YOUR FREE CLASS!
Gracie Barra River Oaks: Effective martial arts programs for kids of all ages!
Gracie Barra River Oaks: A Premier Martial Arts Academy in Houston!
Gracie Barra River Oaks is a premier martial arts academy located in Houston, Texas. Founded by Professor Ulpiano Malachias, a world-renowned Brazilian Jiu Jitsu practitioner, the academy offers top-notch training in Jiu Jitsu and mixed martial arts. Professor Malachias has been involved in athletics and martial arts from a young age, beginning with Judo at the age of 4 and then transitioning to Brazilian Jiu Jitsu at 17.
Under the leadership of Professor Malachias, Gracie Barra River Oaks has grown and expanded to a new, larger 10,000 sqft location in 2016. The academy offers a wide range of training programs to suit students of all levels, from beginners to advanced practitioners.
One of Professor Malachias greatest achievements is his success as a black belt competitor in the International Brazilian Jiu Jitsu Federation (IBJJF) competitions. He has won multiple championships and medals, including the Asian Championship in 2006, American National Championship in 2004, 2005, and 2008, and Pan American Championship Silver Medal in 2010, among others. He is also the 2022 IBJJF Jiu-Jitsu Championship Open Gold Medalist.
Gracie Barra River Oaks: Experience a new beginning on your Jiu-Jitsu journey!
Professor Malachias is committed to continuously improving his teaching skills and his own knowledge and skill in Jiu Jitsu. He is a certified IBJJF referee and has served as a referee in countless IBJJF tournaments, including some widely watched finals.
At Gracie Barra River Oaks, students have access to over 700 Gracie Barra Schools worldwide, professional-quality Jiu-Jitsu gear, and online resources to further their training. The academy promotes a holistic perspective to Jiu-Jitsu, including physical and mental wellness. All GB Schools are supervised by a Gracie Barra certified instructor, who supports students and helps each one achieve their potential through challenging training programs. Each class at Gracie Barra River Oaks is customized to offer maximum benefit for the students in attendance.
In summary, Gracie Barra River Oaks is a world-class martial arts academy with a strong commitment to excellence and dedication to Jiu-Jitsu. With Professor Ulpiano Malachias at the helm, students can expect top-notch training and support in their journey to becoming skilled practitioners of Jiu Jitsu and mixed martial arts.
Gracie Barra River Oaks: Effective martial arts programs for kids of all ages!

Route
| | |
| --- | --- |
| Monday | 06:00 - 21:00 |
| Tuesday | 06:00 - 21:00 |
| Wednesday | 06:30 - 21:00 |
| Thursday | 06:15 - 21:00 |
| Friday | 11:00 - 21:00 |
| Saturday | 09:00 - 13:00 |
| Sunday | 10:00 - 12:00 |