Jiu-Jitsu is a sport predominantly practiced by men, which presents significant challenges for women practitioners throughout their journey in the sport. These difficulties are experienced daily by female Jiu-Jitsu athletes, who face obstacles such as the devaluation of their skills and techniques, disparities in prize money, and prejudice for being women in an environment that is often perceived as exclusively for men.
One of the main problems faced by women in Jiu-Jitsu is the devaluation of their abilities. Despite their dedication and proficiency, female athletes often encounter skepticism and doubt regarding their skills. This lack of recognition directly impacts their training and can create a sense of frustration and discouragement. It is disheartening to see women's achievements and capabilities being undermined or dismissed solely based on their gender.
Another significant challenge faced by female Jiu-Jitsu athletes is the inequality in prize money at competitions. Women often receive significantly lower prize amounts compared to their male counterparts, despite putting in the same amount of effort and commitment to their training. This discrepancy is not only unjust but also reinforces the notion that women's achievements are somehow worth less than those of men.
Furthermore, women in Jiu-Jitsu also have to confront prejudice and stereotypes in the male-dominated environment of the sport. They may encounter resistance and judgment from both male practitioners and society at large. The prevailing notion that Jiu-Jitsu is exclusively for men can create a hostile and unwelcoming atmosphere for women, making it difficult for them to find support and encouragement within the community.
Gracie Barra River Oaks: Experience a new beginning on your Jiu-Jitsu journey!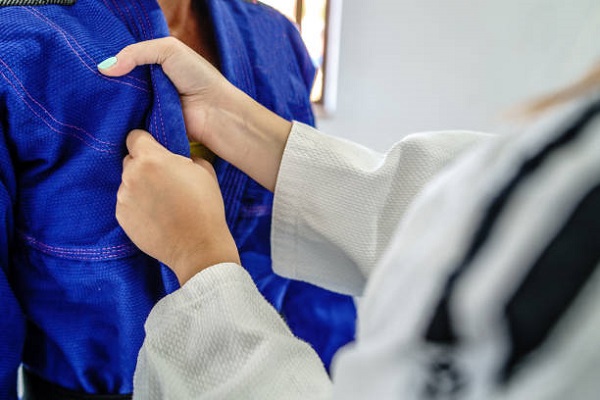 It is evident that the obstacles and challenges faced by many women in their Jiu-Jitsu journey are substantial. However, it is essential to acknowledge and address these issues to create a more inclusive and equitable environment within the sport. Efforts must be made to challenge and dismantle gender stereotypes, promote equal opportunities, and provide a supportive framework for women in Jiu-Jitsu.
Advocacy for gender equality in Jiu-Jitsu should involve initiatives such as raising awareness about the achievements and contributions of female athletes, implementing equal prize money policies, and promoting inclusive training environments. Encouraging more women to participate in Jiu-Jitsu and providing them with the necessary support and resources will help foster a sense of belonging and empowerment.
In conclusion, women in Jiu-Jitsu face a range of difficulties and challenges. From the devaluation of their skills and techniques to disparities in prize money and prejudice, these obstacles hinder their progress and recognition within the sport. However, by actively working towards gender equality, addressing biases, and fostering inclusivity, we can create a more supportive and fair environment for women in Jiu-Jitsu. It is crucial to recognize the immense value and potential of women in the sport and ensure that they are given equal opportunities to thrive and succeed.
Getting Started at Gracie Barra Is Easy: SCHEDULE YOUR FREE CLASS!
Gracie Barra River Oaks: Effective martial arts programs for kids of all ages!
Gracie Barra River Oaks: A Premier Martial Arts Academy in Houston!
Gracie Barra River Oaks is a premier martial arts academy located in Houston, Texas. Founded by Professor Ulpiano Malachias, a world-renowned Brazilian Jiu Jitsu practitioner, the academy offers top-notch training in Jiu Jitsu and mixed martial arts. Professor Malachias has been involved in athletics and martial arts from a young age, beginning with Judo at the age of 4 and then transitioning to Brazilian Jiu Jitsu at 17.
Under the leadership of Professor Malachias, Gracie Barra River Oaks has grown and expanded to a new, larger 10,000 sqft location in 2016. The academy offers a wide range of training programs to suit students of all levels, from beginners to advanced practitioners.
One of Professor Malachias greatest achievements is his success as a black belt competitor in the International Brazilian Jiu Jitsu Federation (IBJJF) competitions. He has won multiple championships and medals, including the Asian Championship in 2006, American National Championship in 2004, 2005, and 2008, and Pan American Championship Silver Medal in 2010, among others. He is also the 2022 IBJJF Jiu-Jitsu Championship Open Gold Medalist.
Gracie Barra River Oaks: Experience a new beginning on your Jiu-Jitsu journey!
Professor Malachias is committed to continuously improving his teaching skills and his own knowledge and skill in Jiu Jitsu. He is a certified IBJJF referee and has served as a referee in countless IBJJF tournaments, including some widely watched finals.
At Gracie Barra River Oaks, students have access to over 700 Gracie Barra Schools worldwide, professional-quality Jiu-Jitsu gear, and online resources to further their training. The academy promotes a holistic perspective to Jiu-Jitsu, including physical and mental wellness. All GB Schools are supervised by a Gracie Barra certified instructor, who supports students and helps each one achieve their potential through challenging training programs. Each class at Gracie Barra River Oaks is customized to offer maximum benefit for the students in attendance.
In summary, Gracie Barra River Oaks is a world-class martial arts academy with a strong commitment to excellence and dedication to Jiu-Jitsu. With Professor Ulpiano Malachias at the helm, students can expect top-notch training and support in their journey to becoming skilled practitioners of Jiu Jitsu and mixed martial arts.
Gracie Barra River Oaks: Effective martial arts programs for kids of all ages!

Route
| | |
| --- | --- |
| Monday | 06:00 - 21:00 |
| Tuesday | 06:00 - 21:00 |
| Wednesday | 06:30 - 21:00 |
| Thursday | 06:15 - 21:00 |
| Friday | 11:00 - 21:00 |
| Saturday | 09:00 - 13:00 |
| Sunday | 10:00 - 12:00 |