The Jiu-Jitsu lifestyle has the power to change lives, offering practitioners much more than just physical training. It is a way of life characterized by dedication, discipline, and a relentless pursuit of self-discovery and personal growth. Through their journey in Jiu-Jitsu, practitioners develop invaluable skills such as confidence, self-control, resilience, and self-assurance. However, the impact of Jiu-Jitsu extends far beyond the physical and mental aspects.
First and foremost, the practice of Jiu-Jitsu promotes a healthy lifestyle. To excel in this martial art, individuals must maintain good physical fitness and make conscious choices regarding their diet and nutrition. Regular training sessions and the demands of grappling techniques contribute to improved strength, endurance, and overall well-being. By adopting a healthier lifestyle, practitioners experience increased energy levels, reduced stress, and a strengthened immune system.
Moreover, Jiu-Jitsu is renowned for its principles of respect, humility, and camaraderie. Practitioners understand the importance of treating their training partners with respect and approaching each interaction with humility. The training environment fosters a sense of community, where practitioners are encouraged to work together, support one another, and help each other achieve their goals. This spirit of camaraderie extends beyond the mats and often leads to lifelong friendships and a sense of belonging.
Gracie Barra River Oaks: Experience a new beginning on your Jiu-Jitsu journey!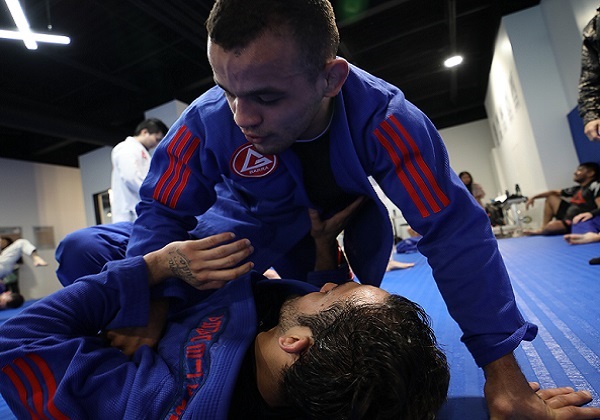 The philosophy of the Jiu-Jitsu practitioner is deeply influenced by the constant pursuit of self-awareness and self-improvement. Through the challenges faced on and off the mats, practitioners learn to confront obstacles head-on and seek creative solutions to problems. This mindset translates into other areas of their lives, empowering them to tackle personal and professional challenges with determination and resilience. Jiu-Jitsu becomes a catalyst for personal growth, as individuals become more self-assured, adaptable, and capable of overcoming adversity.
The Jiu-Jitsu lifestyle offers a unique combination of physical training, mental fortitude, and character development. It instills a strong sense of discipline, teaching practitioners to set goals, work diligently towards them, and maintain focus and perseverance. The daily practice of Jiu-Jitsu cultivates mental resilience, as individuals learn to embrace discomfort, face fears, and push beyond their perceived limits.
Getting Started at Gracie Barra Is Easy: SCHEDULE YOUR FREE CLASS!
Gracie Barra River Oaks: Effective martial arts programs for kids of all ages!
Gracie Barra River Oaks: A Premier Martial Arts Academy in Houston!
Gracie Barra River Oaks is a premier martial arts academy located in Houston, Texas. Founded by Professor Ulpiano Malachias, a world-renowned Brazilian Jiu Jitsu practitioner, the academy offers top-notch training in Jiu Jitsu and mixed martial arts. Professor Malachias has been involved in athletics and martial arts from a young age, beginning with Judo at the age of 4 and then transitioning to Brazilian Jiu Jitsu at 17.
Under the leadership of Professor Malachias, Gracie Barra River Oaks has grown and expanded to a new, larger 10,000 sqft location in 2016. The academy offers a wide range of training programs to suit students of all levels, from beginners to advanced practitioners.
One of Professor Malachias greatest achievements is his success as a black belt competitor in the International Brazilian Jiu Jitsu Federation (IBJJF) competitions. He has won multiple championships and medals, including the Asian Championship in 2006, American National Championship in 2004, 2005, and 2008, and Pan American Championship Silver Medal in 2010, among others. He is also the 2022 IBJJF Jiu-Jitsu Championship Open Gold Medalist.
Gracie Barra River Oaks: Experience a new beginning on your Jiu-Jitsu journey!
Professor Malachias is committed to continuously improving his teaching skills and his own knowledge and skill in Jiu Jitsu. He is a certified IBJJF referee and has served as a referee in countless IBJJF tournaments, including some widely watched finals.
At Gracie Barra River Oaks, students have access to over 700 Gracie Barra Schools worldwide, professional-quality Jiu-Jitsu gear, and online resources to further their training. The academy promotes a holistic perspective to Jiu-Jitsu, including physical and mental wellness. All GB Schools are supervised by a Gracie Barra certified instructor, who supports students and helps each one achieve their potential through challenging training programs. Each class at Gracie Barra River Oaks is customized to offer maximum benefit for the students in attendance.
In summary, Gracie Barra River Oaks is a world-class martial arts academy with a strong commitment to excellence and dedication to Jiu-Jitsu. With Professor Ulpiano Malachias at the helm, students can expect top-notch training and support in their journey to becoming skilled practitioners of Jiu Jitsu and mixed martial arts.
Gracie Barra River Oaks: Effective martial arts programs for kids of all ages!

Route
| | |
| --- | --- |
| Monday | 06:00 - 21:00 |
| Tuesday | 06:00 - 21:00 |
| Wednesday | 06:30 - 21:00 |
| Thursday | 06:15 - 21:00 |
| Friday | 11:00 - 21:00 |
| Saturday | 09:00 - 13:00 |
| Sunday | 10:00 - 12:00 |