Jiu Jitsu can be an effective self-defense system for women, as it emphasizes leverage, technique, and strategy over brute strength and aggression.
Gracie Barra River Oaks: Experience a new beginning on your Jiu-Jitsu journey!
Here are some ways that women can use Jiu Jitsu to protect themselves:
Developing situational awareness: Jiu Jitsu training can help women develop situational awareness, which means being aware of their surroundings and potential threats. This can help women avoid dangerous situations and make quick decisions if they are confronted with an attacker.
Learning self-defense techniques: Jiu Jitsu teaches a variety of self-defense techniques that are specifically designed to help women defend themselves against larger and stronger attackers. These techniques include escapes from grabs, chokes, and holds, as well as strikes, takedowns, and submissions.
Building physical fitness: Jiu Jitsu is a highly demanding physical activity that can improve cardiovascular health, muscular endurance, strength, flexibility, and coordination. Improved physical fitness can help women defend themselves more effectively and escape from dangerous situations.
Gracie Barra River Oaks: Effective martial arts programs for kids of all ages!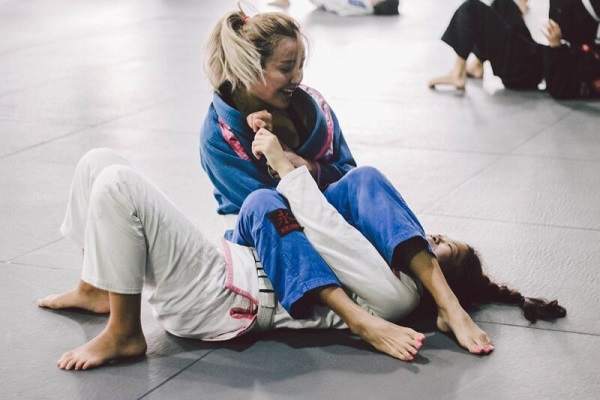 Developing mental toughness: Jiu Jitsu can help women develop mental toughness and resilience by teaching them how to overcome adversity, persevere through difficult situations, and stay focused under pressure. This can be particularly useful in high-stress situations, such as when facing an attacker.
Building confidence: Jiu Jitsu can help women build self-confidence and self-esteem by teaching them how to defend themselves, set and achieve goals, and develop a sense of mastery over their bodies and minds. Increased confidence can help women feel more empowered and assertive in their daily lives.
Overall, Jiu Jitsu can provide women with a comprehensive self-defense system that emphasizes technique, strategy, and mental toughness, rather than brute force or aggression. By developing situational awareness, learning self-defense techniques, building physical fitness, developing mental toughness, and building confidence, women can better protect themselves against potential threats.
Getting Started at Gracie Barra Is Easy: SCHEDULE YOUR FREE CLASS!
Gracie Barra River Oaks: A Premier Martial Arts Academy in Houston!
Gracie Barra River Oaks is a premier martial arts academy located in Houston, Texas. Founded by Professor Ulpiano Malachias, a world-renowned Brazilian Jiu Jitsu practitioner, the academy offers top-notch training in Jiu Jitsu and mixed martial arts. Professor Malachias has been involved in athletics and martial arts from a young age, beginning with Judo at the age of 4 and then transitioning to Brazilian Jiu Jitsu at 17.
Under the leadership of Professor Malachias, Gracie Barra River Oaks has grown and expanded to a new, larger 10,000 sqft location in 2016. The academy offers a wide range of training programs to suit students of all levels, from beginners to advanced practitioners.
One of Professor Malachias greatest achievements is his success as a black belt competitor in the International Brazilian Jiu Jitsu Federation (IBJJF) competitions. He has won multiple championships and medals, including the Asian Championship in 2006, American National Championship in 2004, 2005, and 2008, and Pan American Championship Silver Medal in 2010, among others. He is also the 2022 IBJJF Jiu-Jitsu Championship Open Gold Medalist.
Gracie Barra River Oaks: Experience a new beginning on your Jiu-Jitsu journey!
Professor Malachias is committed to continuously improving his teaching skills and his own knowledge and skill in Jiu Jitsu. He is a certified IBJJF referee and has served as a referee in countless IBJJF tournaments, including some widely watched finals.
At Gracie Barra River Oaks, students have access to over 700 Gracie Barra Schools worldwide, professional-quality Jiu-Jitsu gear, and online resources to further their training. The academy promotes a holistic perspective to Jiu-Jitsu, including physical and mental wellness. All GB Schools are supervised by a Gracie Barra certified instructor, who supports students and helps each one achieve their potential through challenging training programs. Each class at Gracie Barra River Oaks is customized to offer maximum benefit for the students in attendance.
In summary, Gracie Barra River Oaks is a world-class martial arts academy with a strong commitment to excellence and dedication to Jiu-Jitsu. With Professor Ulpiano Malachias at the helm, students can expect top-notch training and support in their journey to becoming skilled practitioners of Jiu Jitsu and mixed martial arts.
Gracie Barra River Oaks: Effective martial arts programs for kids of all ages!

Route
| | |
| --- | --- |
| Monday | 06:00 - 21:00 |
| Tuesday | 06:00 - 21:00 |
| Wednesday | 06:30 - 21:00 |
| Thursday | 06:15 - 21:00 |
| Friday | 11:00 - 21:00 |
| Saturday | 09:00 - 13:00 |
| Sunday | 10:00 - 12:00 |