One of the greatest nightmares in the life of an athlete is related to injuries. Unfortunately, they are an inevitable risk that can affect practitioners of any sport. In Jiu Jitsu, injuries can manifest in various forms, whether they occur during competitions, intense training sessions, or even while practicing specific techniques. However, the best way to deal with injuries is through prevention. Strengthening, muscle stretching, and proper warm-up before training are essential steps to prepare the body for Jiu Jitsu and minimize the risk of injuries.
Factors such as the intensity of training, overloading, and the notion of "going all out" in sparring sessions also contribute to increasing the likelihood of injuries. Athletes who are mindful of their bodies and limits are more likely to have fewer injuries throughout their careers.
Despite taking all possible precautions, injuries can still occur. So, what should you do when you sustain an injury?
First and foremost, remain calm. Remember that even the best fighters have experienced injuries. Once the initial shock of the injury wears off, the athlete should immediately seek medical attention. However, it's essential to note that the first doctor you consult may not always have the best solution for your specific problem. It's advisable to seek out a specialist in sports injuries and consider getting recommendations from other athletes or coaches.
Sometimes, doctors who are not well-versed in sports-related injuries may suggest slower and more conventional treatments. For athletes, it is crucial to consult professionals who understand the demands of the sport and are experienced in treating athletes. They can devise more intensive and targeted treatments that align with the athlete's capacity for recovery.
Gracie Barra River Oaks: Experience a new beginning on your Jiu-Jitsu journey!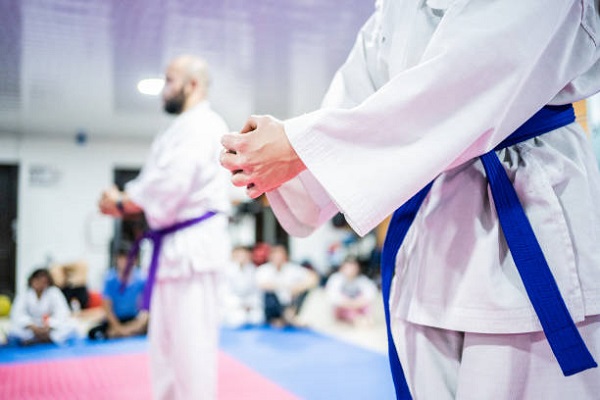 Once you've identified a trustworthy medical professional, undergo the necessary examinations to assess the severity of the injury. Common injuries in Jiu Jitsu include sprains, bruises, strains, muscle stretches, and muscle contractions.
Following the doctor's advice is paramount. Be patient and adhere strictly to the prescribed treatment plan. This may involve rest, physical therapy, or rehabilitation exercises. It's crucial not to rush the recovery process, as prematurely returning to training without proper healing can worsen the injury and prolong the time away from the sport.
Maintaining a positive mindset during the recovery process is equally important. Injuries can be frustrating and mentally challenging, but it's essential to stay focused on the goal of returning to Jiu Jitsu stronger and healthier.
During the recovery period, athletes should also consider how they can prevent similar injuries in the future. Reflect on training techniques, identify potential areas of weakness, and work on developing a more balanced and injury-resistant approach to the sport.
In conclusion, injuries are an unfortunate reality for Jiu Jitsu practitioners, but they can be managed effectively with the right approach. Prevention through proper warm-up, stretching, and conditioning is essential. In the event of an injury, seeking specialized medical attention, following treatment protocols diligently, and maintaining a positive mindset will facilitate a safe and efficient return to the sport. Jiu Jitsu is a journey that encompasses both victories and setbacks, and it is in overcoming these challenges that athletes truly grow and evolve in their practice.
Getting Started at Gracie Barra Is Easy: SCHEDULE YOUR FREE CLASS!
Gracie Barra River Oaks: Effective martial arts programs for kids of all ages!
Gracie Barra River Oaks: A Premier Martial Arts Academy in Houston!
Gracie Barra River Oaks is a premier martial arts academy located in Houston, Texas. Founded by Professor Ulpiano Malachias, a world-renowned Brazilian Jiu Jitsu practitioner, the academy offers top-notch training in Jiu Jitsu and mixed martial arts. Professor Malachias has been involved in athletics and martial arts from a young age, beginning with Judo at the age of 4 and then transitioning to Brazilian Jiu Jitsu at 17.
Under the leadership of Professor Malachias, Gracie Barra River Oaks has grown and expanded to a new, larger 10,000 sqft location in 2016. The academy offers a wide range of training programs to suit students of all levels, from beginners to advanced practitioners.
One of Professor Malachias greatest achievements is his success as a black belt competitor in the International Brazilian Jiu Jitsu Federation (IBJJF) competitions. He has won multiple championships and medals, including the Asian Championship in 2006, American National Championship in 2004, 2005, and 2008, and Pan American Championship Silver Medal in 2010, among others. He is also the 2022 IBJJF Jiu-Jitsu Championship Open Gold Medalist.
Gracie Barra River Oaks: Experience a new beginning on your Jiu-Jitsu journey!
Professor Malachias is committed to continuously improving his teaching skills and his own knowledge and skill in Jiu Jitsu. He is a certified IBJJF referee and has served as a referee in countless IBJJF tournaments, including some widely watched finals.
At Gracie Barra River Oaks, students have access to over 700 Gracie Barra Schools worldwide, professional-quality Jiu-Jitsu gear, and online resources to further their training. The academy promotes a holistic perspective to Jiu-Jitsu, including physical and mental wellness. All GB Schools are supervised by a Gracie Barra certified instructor, who supports students and helps each one achieve their potential through challenging training programs. Each class at Gracie Barra River Oaks is customized to offer maximum benefit for the students in attendance.
In summary, Gracie Barra River Oaks is a world-class martial arts academy with a strong commitment to excellence and dedication to Jiu-Jitsu. With Professor Ulpiano Malachias at the helm, students can expect top-notch training and support in their journey to becoming skilled practitioners of Jiu Jitsu and mixed martial arts.
Gracie Barra River Oaks: Effective martial arts programs for kids of all ages!

Route
| | |
| --- | --- |
| Monday | 06:00 - 21:00 |
| Tuesday | 06:00 - 21:00 |
| Wednesday | 06:30 - 21:00 |
| Thursday | 06:15 - 21:00 |
| Friday | 11:00 - 21:00 |
| Saturday | 09:00 - 13:00 |
| Sunday | 10:00 - 12:00 |