Jiu-Jitsu, a martial art known for its intricate techniques and strategic moves, welcomes women into its fold with tailored options that acknowledge the uniqueness of the female physique.
When it comes to Jiu-Jitsu gis (uniforms), the differences between men's and women's designs go beyond aesthetics; they account for size and structure, ensuring that female practitioners have comfortable and functional gear that supports their training journey.
Tailored Fit and Design!
The most apparent distinction between men's and women's Jiu-Jitsu gis lies in their structure. While men's gis often feature standard cuts and larger measurements, women's gis are meticulously crafted to fit the female body's proportions—typically shorter and with curves in mind. The result is a gi that corresponds to the female universe, providing better mobility and comfort during training.
Size and Cut!
Size matters, and it's evident when comparing men's and women's Jiu-Jitsu gis. Men's gis, which can be considered unisex, are available in larger sizes and adhere to a more standard cut, featuring straight lines in both the jacket and pants. On the other hand, women's gis are designed with a smaller size range, allowing for a better fit that accommodates their physique.
Unisex Gis: A Versatile Option!
Unisex Jiu-Jitsu gis offer versatility, catering to both men and women. These gis often bridge the gap, offering a comfortable option that can be worn by practitioners of any gender. For many women, unisex gis are an accessible and practical choice that aligns with their training needs and budget considerations.
Female-Centric Gi Design!
While unisex gis provide a solution for many, there's a growing market for specifically designed women's Jiu-Jitsu gis. These gis are exclusively tailored to cater to female athletes, considering not only their size but also the nuances of their training experience. Female gis often feature details that celebrate femininity while maintaining the practicality required in training.
Gracie Barra River Oaks: Experience a new beginning on your Jiu-Jitsu journey!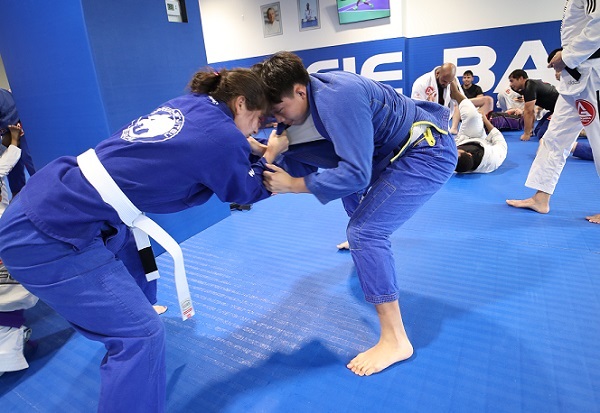 Key Characteristics of Women's Gis!
Size: Female gis are intentionally smaller than their male counterparts, ensuring a comfortable and secure fit that doesn't compromise movement.
Cut: Some brands offer a more contoured cut for the jacket, accentuating the waistline and catering to the female silhouette.
Color and Design: Female gis may boast more vibrant finishing touches, aligning with colors that resonate with women's preferences.
Tailored Manufacturing: While Brazilian-made female gis are available, it's important to note that they often cater to a smaller body type than what's representative of the average Brazilian woman.
Color Options: Just like men's gis, women's gis are available in classic white, royal blue, and black.
Whether opting for unisex gis or those designed exclusively for women, the world of Jiu-Jitsu has evolved to embrace the female practitioner. With tailored fits, enhanced mobility, and thoughtful designs, female Jiu-Jitsu enthusiasts can focus on mastering techniques while wearing gear that celebrates their individuality and dedication to the art. As the community continues to grow, Jiu-Jitsu becomes a platform for empowerment, camaraderie, and self-expression among women worldwide.
Getting Started at Gracie Barra Is Easy: SCHEDULE YOUR FREE CLASS!
Gracie Barra River Oaks: Effective martial arts programs for kids of all ages!
Gracie Barra River Oaks: A Premier Martial Arts Academy in Houston!
Gracie Barra River Oaks is a premier martial arts academy located in Houston, Texas. Founded by Professor Ulpiano Malachias, a world-renowned Brazilian Jiu Jitsu practitioner, the academy offers top-notch training in Jiu Jitsu and mixed martial arts. Professor Malachias has been involved in athletics and martial arts from a young age, beginning with Judo at the age of 4 and then transitioning to Brazilian Jiu Jitsu at 17.
Under the leadership of Professor Malachias, Gracie Barra River Oaks has grown and expanded to a new, larger 10,000 sqft location in 2016. The academy offers a wide range of training programs to suit students of all levels, from beginners to advanced practitioners.
One of Professor Malachias greatest achievements is his success as a black belt competitor in the International Brazilian Jiu Jitsu Federation (IBJJF) competitions. He has won multiple championships and medals, including the Asian Championship in 2006, American National Championship in 2004, 2005, and 2008, and Pan American Championship Silver Medal in 2010, among others. He is also the 2022 IBJJF Jiu-Jitsu Championship Open Gold Medalist.
Gracie Barra River Oaks: Experience a new beginning on your Jiu-Jitsu journey!
Professor Malachias is committed to continuously improving his teaching skills and his own knowledge and skill in Jiu Jitsu. He is a certified IBJJF referee and has served as a referee in countless IBJJF tournaments, including some widely watched finals.
At Gracie Barra River Oaks, students have access to over 700 Gracie Barra Schools worldwide, professional-quality Jiu-Jitsu gear, and online resources to further their training. The academy promotes a holistic perspective to Jiu-Jitsu, including physical and mental wellness. All GB Schools are supervised by a Gracie Barra certified instructor, who supports students and helps each one achieve their potential through challenging training programs. Each class at Gracie Barra River Oaks is customized to offer maximum benefit for the students in attendance.
In summary, Gracie Barra River Oaks is a world-class martial arts academy with a strong commitment to excellence and dedication to Jiu-Jitsu. With Professor Ulpiano Malachias at the helm, students can expect top-notch training and support in their journey to becoming skilled practitioners of Jiu Jitsu and mixed martial arts.
Gracie Barra River Oaks: Effective martial arts programs for kids of all ages!

Route
| | |
| --- | --- |
| Monday | 06:00 - 21:00 |
| Tuesday | 06:00 - 21:00 |
| Wednesday | 06:30 - 21:00 |
| Thursday | 06:15 - 21:00 |
| Friday | 11:00 - 21:00 |
| Saturday | 09:00 - 13:00 |
| Sunday | 10:00 - 12:00 |