Many people associate combat sports with masculinity and perceive Jiu-Jitsu as a violent pursuit. However, this perception is changing rapidly, as an increasing number of women are discovering the numerous benefits of Jiu-Jitsu.
In this article, we'll explore how Jiu-Jitsu can positively impact women's self-esteem and personal development, debunking common misconceptions about this martial art.
The Essence of Jiu-Jitsu!
To understand how Jiu-Jitsu can boost self-esteem, we must delve into its essence. Jiu-Jitsu isn't just a combat sport; it's a martial art rooted in the ancient traditions of samurai warriors. These warriors lived by the Bushido code, emphasizing principles like self-development and discipline.
Self-Development as a Guiding Principle!
One of the fundamental principles of martial arts, including Jiu-Jitsu, is self-development. In this context, self-development means striving to be better than your worst enemy—yourself. Despite training to combat or defend against others, the primary competition is with oneself.
Gracie Barra River Oaks: Experience a new beginning on your Jiu-Jitsu journey!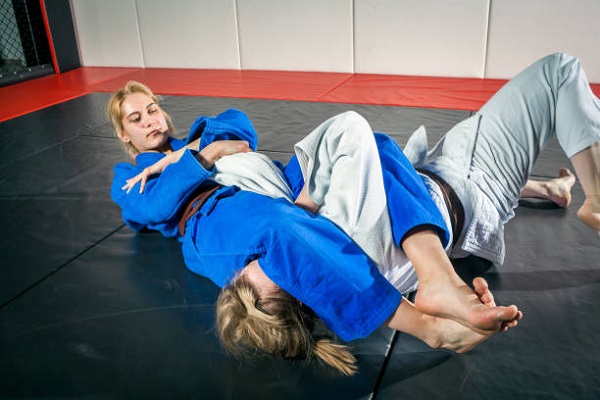 The Power of Self-Improvement!
This may seem paradoxical, but it's the core of Jiu-Jitsu's philosophy. By focusing on self-improvement, individuals gain control over their behavior, diet, training regimen, and thoughts. They learn to challenge their limits and step out of their comfort zones. Jiu-Jitsu teaches that the greatest opponent you'll ever face is the one in the mirror.
The Magic of Looking Inward!
When you shift your focus from others to yourself, you unlock a powerful transformation. It's easy to make excuses or give in to temptations when faced with challenges or fatigue. However, it's in these moments that you can choose strength, self-improvement, and small victories.
Building Self-Esteem!
Boosting self-esteem becomes a natural consequence of this journey. As you conquer your inner demons, you realize you are capable of much more than you ever imagined. Every time you make a positive choice, whether it's sticking to your training routine, maintaining a healthy diet, or resisting a small indulgence, you reaffirm your self-worth.
Jiu-Jitsu is more than a martial art; it's a path to self-discovery, self-improvement, and higher self-esteem for women. While some may see it as a combat sport, it teaches individuals to compete against themselves and become the best versions of themselves. By embracing the philosophy of Jiu-Jitsu and focusing on self-development, women can experience personal growth, increased self-esteem, and newfound confidence. Jiu-Jitsu empowers women to conquer their inner obstacles and discover their limitless potential, making it a transformative journey both on and off the mat.
Getting Started at Gracie Barra Is Easy: SCHEDULE YOUR FREE CLASS!
Gracie Barra River Oaks: Effective martial arts programs for kids of all ages!
Gracie Barra River Oaks: A Premier Martial Arts Academy in Houston!
Gracie Barra River Oaks is a premier martial arts academy located in Houston, Texas. Founded by Professor Ulpiano Malachias, a world-renowned Brazilian Jiu Jitsu practitioner, the academy offers top-notch training in Jiu Jitsu and mixed martial arts. Professor Malachias has been involved in athletics and martial arts from a young age, beginning with Judo at the age of 4 and then transitioning to Brazilian Jiu Jitsu at 17.
Under the leadership of Professor Malachias, Gracie Barra River Oaks has grown and expanded to a new, larger 10,000 sqft location in 2016. The academy offers a wide range of training programs to suit students of all levels, from beginners to advanced practitioners.
One of Professor Malachias greatest achievements is his success as a black belt competitor in the International Brazilian Jiu Jitsu Federation (IBJJF) competitions. He has won multiple championships and medals, including the Asian Championship in 2006, American National Championship in 2004, 2005, and 2008, and Pan American Championship Silver Medal in 2010, among others. He is also the 2022 IBJJF Jiu-Jitsu Championship Open Gold Medalist.
Gracie Barra River Oaks: Experience a new beginning on your Jiu-Jitsu journey!
Professor Malachias is committed to continuously improving his teaching skills and his own knowledge and skill in Jiu Jitsu. He is a certified IBJJF referee and has served as a referee in countless IBJJF tournaments, including some widely watched finals.
At Gracie Barra River Oaks, students have access to over 700 Gracie Barra Schools worldwide, professional-quality Jiu-Jitsu gear, and online resources to further their training. The academy promotes a holistic perspective to Jiu-Jitsu, including physical and mental wellness. All GB Schools are supervised by a Gracie Barra certified instructor, who supports students and helps each one achieve their potential through challenging training programs. Each class at Gracie Barra River Oaks is customized to offer maximum benefit for the students in attendance.
In summary, Gracie Barra River Oaks is a world-class martial arts academy with a strong commitment to excellence and dedication to Jiu-Jitsu. With Professor Ulpiano Malachias at the helm, students can expect top-notch training and support in their journey to becoming skilled practitioners of Jiu Jitsu and mixed martial arts.
Gracie Barra River Oaks: Effective martial arts programs for kids of all ages!

Route
| | |
| --- | --- |
| Monday | 06:00 - 21:00 |
| Tuesday | 06:00 - 21:00 |
| Wednesday | 06:30 - 21:00 |
| Thursday | 06:15 - 21:00 |
| Friday | 11:00 - 21:00 |
| Saturday | 09:00 - 13:00 |
| Sunday | 10:00 - 12:00 |