Jiu-Jitsu, a martial art that has been steadily gaining popularity in the sports world, offers a host of physical and mental benefits for children and adolescents. Beyond enhancing strength, flexibility, and motor skills, Jiu-Jitsu fosters discipline, self-control, and a range of valuable life skills.
In this article, we explore the numerous advantages of kids practicing Jiu-Jitsu, from character development to improved physical and mental well-being.
Discipline and Self-Control!
One of the primary advantages of Jiu-Jitsu for children and teenagers is the cultivation of discipline and self-control. Through training, students learn to manage their emotions and interact with respect and ethics towards their training partners. This emotional self-regulation is not only crucial for sports but also for personal and professional life.
Boosting Self-Esteem and Confidence!
Jiu-Jitsu empowers young practitioners to build self-esteem and confidence. By facing challenges and pushing their limits, kids learn to overcome obstacles, fostering a strong and self-assured personality. This newfound self-confidence extends beyond the mat, positively impacting various aspects of their lives.
Gracie Barra River Oaks: Experience a new beginning on your Jiu-Jitsu journey!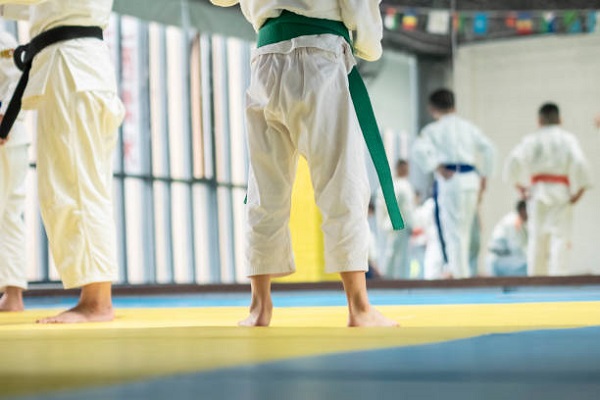 Socialization and Teamwork!
Jiu-Jitsu promotes socialization and teamwork among young learners. Instructors encourage students to collaborate and support each other during training, fostering essential social skills such as empathy and cooperation. The camaraderie formed in Jiu-Jitsu classes creates a sense of belonging and friendship.
Enhanced Concentration and Focus!
Jiu-Jitsu requires intense concentration and focus during training. Students must pay attention to movements, techniques, and positions, which can significantly improve their ability to concentrate. This heightened focus can benefit their academic performance and overall productivity.
Improved Physical and Mental Health!
Regular Jiu-Jitsu practice contributes to better physical and mental health in children and adolescents. It aids in disease prevention, enhances sleep quality, and boosts energy levels. The physical demands of Jiu-Jitsu help kids stay active and maintain a healthy lifestyle, promoting overall well-being.
Jiu-Jitsu for kids offers a holistic approach to personal development, combining physical fitness with character-building and mental growth. The martial art instills discipline, self-control, and teamwork while fostering self-esteem and confidence.
Additionally, Jiu-Jitsu sharpens concentration and focus, setting students on a path towards academic and professional success. Embracing Jiu-Jitsu from a young age not only nurtures a healthier lifestyle but also equips children and adolescents with essential life skills that will serve them well into adulthood. Consider enrolling your child in Jiu-Jitsu classes to provide them with a strong foundation for a bright and well-rounded future.
Getting Started at Gracie Barra Is Easy: SCHEDULE YOUR FREE CLASS!
Gracie Barra River Oaks: Effective martial arts programs for kids of all ages!
Gracie Barra River Oaks: A Premier Martial Arts Academy in Houston!
Gracie Barra River Oaks is a premier martial arts academy located in Houston, Texas. Founded by Professor Ulpiano Malachias, a world-renowned Brazilian Jiu Jitsu practitioner, the academy offers top-notch training in Jiu Jitsu and mixed martial arts. Professor Malachias has been involved in athletics and martial arts from a young age, beginning with Judo at the age of 4 and then transitioning to Brazilian Jiu Jitsu at 17.
Under the leadership of Professor Malachias, Gracie Barra River Oaks has grown and expanded to a new, larger 10,000 sqft location in 2016. The academy offers a wide range of training programs to suit students of all levels, from beginners to advanced practitioners.
One of Professor Malachias greatest achievements is his success as a black belt competitor in the International Brazilian Jiu Jitsu Federation (IBJJF) competitions. He has won multiple championships and medals, including the Asian Championship in 2006, American National Championship in 2004, 2005, and 2008, and Pan American Championship Silver Medal in 2010, among others. He is also the 2022 IBJJF Jiu-Jitsu Championship Open Gold Medalist.
Gracie Barra River Oaks: Experience a new beginning on your Jiu-Jitsu journey!
Professor Malachias is committed to continuously improving his teaching skills and his own knowledge and skill in Jiu Jitsu. He is a certified IBJJF referee and has served as a referee in countless IBJJF tournaments, including some widely watched finals.
At Gracie Barra River Oaks, students have access to over 700 Gracie Barra Schools worldwide, professional-quality Jiu-Jitsu gear, and online resources to further their training. The academy promotes a holistic perspective to Jiu-Jitsu, including physical and mental wellness. All GB Schools are supervised by a Gracie Barra certified instructor, who supports students and helps each one achieve their potential through challenging training programs. Each class at Gracie Barra River Oaks is customized to offer maximum benefit for the students in attendance.
In summary, Gracie Barra River Oaks is a world-class martial arts academy with a strong commitment to excellence and dedication to Jiu-Jitsu. With Professor Ulpiano Malachias at the helm, students can expect top-notch training and support in their journey to becoming skilled practitioners of Jiu Jitsu and mixed martial arts.
Gracie Barra River Oaks: Effective martial arts programs for kids of all ages!

Route
| | |
| --- | --- |
| Monday | 06:00 - 21:00 |
| Tuesday | 06:00 - 21:00 |
| Wednesday | 06:30 - 21:00 |
| Thursday | 06:15 - 21:00 |
| Friday | 11:00 - 21:00 |
| Saturday | 09:00 - 13:00 |
| Sunday | 10:00 - 12:00 |