One of the common questions that arise in the world of Jiu-Jitsu and martial arts, in general, is whether there's a specific age at which one should start competing.
The answer, however, isn't about a predetermined age; it's about finding the right moment to challenge oneself. Jiu-Jitsu, like other martial arts such as Judo, Karate, and more, not only prepares practitioners for competition but also fosters personal development that extends beyond the mat.
In this article, we explore the concept of when to compete in Jiu-Jitsu and the factors to consider.
Competing at all ages!
There is no age limit when it comes to competing in Jiu-Jitsu. Rather than focusing on age, the emphasis should be on recognizing the right moment to test your skills and push your boundaries. Competing can be an integral part of a practitioner's journey, from beginners to advanced levels, as it offers valuable life lessons and personal growth opportunities.
Personal development in early stages!
For children and teenagers, martial arts competitions, including those in Jiu-Jitsu, can serve as a tool for character development. Competing at a young age helps individuals learn how to cope with both victory and defeat, instilling qualities like resilience, sportsmanship, and discipline. The challenges faced in early competitions contribute to shaping well-rounded individuals who are equipped to handle life's ups and downs.
Competing at any stage of life!
Martial arts, including Jiu-Jitsu, allow individuals to compete at various stages of their lives. From children's categories to seniors, there are opportunities for practitioners to test their skills and progress. Jiu-Jitsu is inclusive, welcoming participants of all ages and skill levels, making it accessible for anyone who wishes to compete.
Gracie Barra River Oaks: Experience a new beginning on your Jiu-Jitsu journey!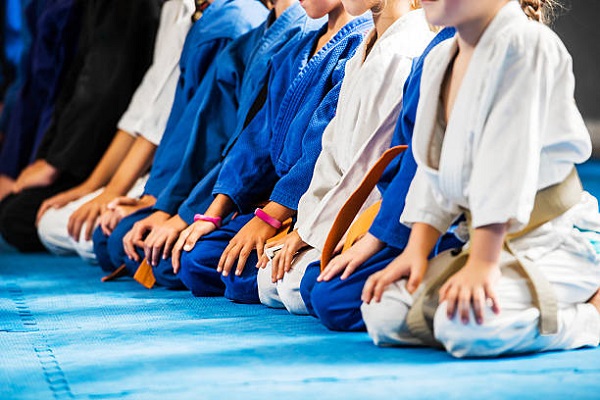 Preparation is key!
Regardless of age, adequate preparation is crucial before stepping onto the competition mat.
Preparation should involve physical training, but equally important is mental preparation. Training to compete goes beyond physical fitness; it involves mental fortitude, strategy, and the ability to handle pressure effectively.
Recognizing individual levels!
In most martial arts competitions, including Jiu-Jitsu, matches are organized based on factors like weight and skill level. Recognizing one's own level and choosing competitions accordingly is essential for a positive and safe experience. Coaches and instructors can provide guidance on when and where to compete based on an individual's readiness and goals.
Building a competitive spirit!
Competing in Jiu-Jitsu can help build a competitive spirit and a sense of camaraderie among practitioners. Internal competitions within a gym or team can serve as a stepping stone to larger external competitions. Receiving feedback on performance and results in these internal competitions can motivate individuals to take on more significant challenges.
In conclusion, there is no fixed age for competing in Jiu-Jitsu. Instead, it's about recognizing the right moment in your personal journey. Jiu-Jitsu is a sport that accommodates practitioners of all ages and promotes personal growth, resilience, and a competitive spirit. Whether you're just starting your martial arts journey or have been practicing for years, competing in Jiu-Jitsu can be a fulfilling and enriching experience that enhances both your physical and mental well-being.
Getting Started at Gracie Barra Is Easy: SCHEDULE YOUR FREE CLASS!
Gracie Barra River Oaks: Effective martial arts programs for kids of all ages!
Gracie Barra River Oaks: A Premier Martial Arts Academy in Houston!
Gracie Barra River Oaks is a premier martial arts academy located in Houston, Texas. Founded by Professor Ulpiano Malachias, a world-renowned Brazilian Jiu Jitsu practitioner, the academy offers top-notch training in Jiu Jitsu and mixed martial arts. Professor Malachias has been involved in athletics and martial arts from a young age, beginning with Judo at the age of 4 and then transitioning to Brazilian Jiu Jitsu at 17.
Under the leadership of Professor Malachias, Gracie Barra River Oaks has grown and expanded to a new, larger 10,000 sqft location in 2016. The academy offers a wide range of training programs to suit students of all levels, from beginners to advanced practitioners.
One of Professor Malachias greatest achievements is his success as a black belt competitor in the International Brazilian Jiu Jitsu Federation (IBJJF) competitions. He has won multiple championships and medals, including the Asian Championship in 2006, American National Championship in 2004, 2005, and 2008, and Pan American Championship Silver Medal in 2010, among others. He is also the 2022 IBJJF Jiu-Jitsu Championship Open Gold Medalist.
Gracie Barra River Oaks: Experience a new beginning on your Jiu-Jitsu journey!
Professor Malachias is committed to continuously improving his teaching skills and his own knowledge and skill in Jiu Jitsu. He is a certified IBJJF referee and has served as a referee in countless IBJJF tournaments, including some widely watched finals.
At Gracie Barra River Oaks, students have access to over 700 Gracie Barra Schools worldwide, professional-quality Jiu-Jitsu gear, and online resources to further their training. The academy promotes a holistic perspective to Jiu-Jitsu, including physical and mental wellness. All GB Schools are supervised by a Gracie Barra certified instructor, who supports students and helps each one achieve their potential through challenging training programs. Each class at Gracie Barra River Oaks is customized to offer maximum benefit for the students in attendance.
In summary, Gracie Barra River Oaks is a world-class martial arts academy with a strong commitment to excellence and dedication to Jiu-Jitsu. With Professor Ulpiano Malachias at the helm, students can expect top-notch training and support in their journey to becoming skilled practitioners of Jiu Jitsu and mixed martial arts.
Gracie Barra River Oaks: Effective martial arts programs for kids of all ages!

Route
| | |
| --- | --- |
| Monday | 06:00 - 21:00 |
| Tuesday | 06:00 - 21:00 |
| Wednesday | 06:30 - 21:00 |
| Thursday | 06:15 - 21:00 |
| Friday | 11:00 - 21:00 |
| Saturday | 09:00 - 13:00 |
| Sunday | 10:00 - 12:00 |