Jiu-Jitsu isn't just a martial art; it's a powerful tool for personal development and growth, especially for children facing unique challenges.
In the case of students with cerebral palsy, overcoming motor and cognitive impairments can seem like an insurmountable obstacle.
However, jiu-jitsu, coupled with therapy, has proven to be a game-changer, enabling these children and adolescents to achieve remarkable progress.
Embracing Challenges!
It's often said that the greater the challenge, the greater the reward. This rings especially true for children with cerebral palsy who engage in Jiu-Jitsu. Jiu-jitsu empowers them to push their limits physically and mentally, fostering resilience, determination, and self-confidence.
Motor Skills Development!
Cerebral palsy can affect a child's motor skills, making even the simplest tasks challenging. Through the practice of jiu-jitsu techniques and drills, these children experience gradual improvements in their motor skills. The art's gentle, controlled movements, and focus on body awareness contribute to enhanced coordination and mobility.
Cognitive Benefits!
Jiu-Jitsu isn't just about physical development; it also stimulates cognitive growth. It requires strategic thinking, problem-solving, and adaptability. For children with cerebral palsy, this mental stimulation can be particularly beneficial, aiding in the development of cognitive functions.
Gracie Barra River Oaks: Experience a new beginning on your Jiu-Jitsu journey!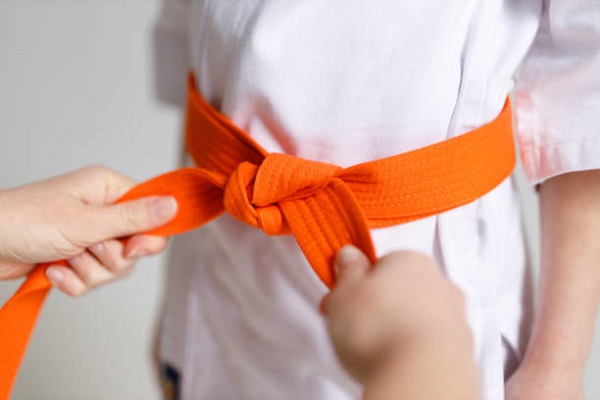 Improved Self-Esteem!
Children with special needs often face self-esteem challenges due to their unique circumstances. Jiu-jitsu provides a platform where they can set and achieve goals, boosting their self-esteem and self-worth. As they see progress in their abilities, their confidence soars.
Therapeutic Integration!
The combination of jiu-jitsu and therapy creates a holistic approach to rehabilitation. Physical therapists and jiu-jitsu instructors work hand in hand to tailor training sessions to each child's specific needs.This synergy maximizes the therapeutic benefits of jiu-jitsu, ensuring a comprehensive approach to development.
Building a Supportive Community!
Jiu-jitsu isn't just an individual journey; it's a community. Children with cerebral palsy find camaraderie and support within the jiu-jitsu community. They build friendships, share experiences, and encourage one another, fostering a sense of belonging and motivation.
Breaking Barriers!
Jiu-Jitsu has the power to break down barriers, both physical and mental. For children with cerebral palsy, it's a pathway to empowerment, independence, and improved quality of life. With each practice session, they inch closer to their full potential, proving that limitations can be conquered.
Jiu-Jitsu has emerged as a beacon of hope for children with cerebral palsy and other special needs. Through its unique blend of physical and mental development, jiu-jitsu offers these children an avenue to overcome challenges, build self-esteem, and integrate with a supportive community.
The combination of jiu-jitsu and therapy is a winning formula, helping these remarkable young individuals realize their incredible potential and embark on a journey of growth, resilience, and achievement. It's a testament to the transformative power of jiu-jitsu, proving that with determination and the right support, every child can shine.
Getting Started at Gracie Barra Is Easy: SCHEDULE YOUR FREE CLASS!
Gracie Barra River Oaks: Effective martial arts programs for kids of all ages!
Gracie Barra River Oaks: A Premier Martial Arts Academy in Houston!
Gracie Barra River Oaks is a premier martial arts academy located in Houston, Texas. Founded by Professor Ulpiano Malachias, a world-renowned Brazilian Jiu Jitsu practitioner, the academy offers top-notch training in Jiu Jitsu and mixed martial arts. Professor Malachias has been involved in athletics and martial arts from a young age, beginning with Judo at the age of 4 and then transitioning to Brazilian Jiu Jitsu at 17.
Under the leadership of Professor Malachias, Gracie Barra River Oaks has grown and expanded to a new, larger 10,000 sqft location in 2016. The academy offers a wide range of training programs to suit students of all levels, from beginners to advanced practitioners.
One of Professor Malachias greatest achievements is his success as a black belt competitor in the International Brazilian Jiu Jitsu Federation (IBJJF) competitions. He has won multiple championships and medals, including the Asian Championship in 2006, American National Championship in 2004, 2005, and 2008, and Pan American Championship Silver Medal in 2010, among others. He is also the 2022 IBJJF Jiu-Jitsu Championship Open Gold Medalist.
Gracie Barra River Oaks: Experience a new beginning on your Jiu-Jitsu journey!
Professor Malachias is committed to continuously improving his teaching skills and his own knowledge and skill in Jiu Jitsu. He is a certified IBJJF referee and has served as a referee in countless IBJJF tournaments, including some widely watched finals.
At Gracie Barra River Oaks, students have access to over 700 Gracie Barra Schools worldwide, professional-quality Jiu-Jitsu gear, and online resources to further their training. The academy promotes a holistic perspective to Jiu-Jitsu, including physical and mental wellness. All GB Schools are supervised by a Gracie Barra certified instructor, who supports students and helps each one achieve their potential through challenging training programs. Each class at Gracie Barra River Oaks is customized to offer maximum benefit for the students in attendance.
In summary, Gracie Barra River Oaks is a world-class martial arts academy with a strong commitment to excellence and dedication to Jiu-Jitsu. With Professor Ulpiano Malachias at the helm, students can expect top-notch training and support in their journey to becoming skilled practitioners of Jiu Jitsu and mixed martial arts.
Gracie Barra River Oaks: Effective martial arts programs for kids of all ages!

Route
| | |
| --- | --- |
| Monday | 06:00 - 21:00 |
| Tuesday | 06:00 - 21:00 |
| Wednesday | 06:30 - 21:00 |
| Thursday | 06:15 - 21:00 |
| Friday | 11:00 - 21:00 |
| Saturday | 09:00 - 13:00 |
| Sunday | 10:00 - 12:00 |