Jiu-Jitsu, often seen as a physically demanding martial art, offers a unique avenue for women to develop emotional control. Beyond its physical aspects, Jiu-Jitsu serves as an escape valve for stress and anxiety, contributing to an improved emotional state. However, the practice goes even further, offering a profound sense of emotional control in a world often characterized by chaos and unpredictability.
Stress and Anxiety Relief!
One of the most significant benefits of Jiu-Jitsu for women is its ability to provide an outlet for stress and anxiety. Engaging in Jiu-Jitsu training allows individuals to release pent-up tension and negative emotions, leading to improved mood and even better sleep. Many female practitioners report tangible changes in their emotional well-being within a short period, attributing it to the stress-relieving effects of Jiu-Jitsu.
The Need for Control!
In a world filled with uncertainties, humans inherently seek to organize and control their environment. The lack of control or disorder can trigger anxiety in many cases. Jiu-Jitsu, in a fascinating way, offers a unique perspective on control.
Jiu-Jitsu as a Battle for Control!
Jiu-Jitsu, at its core, is a struggle for control. Practitioners strive to dominate their opponents and manipulate their movements to achieve favorable positions for submissions or chokes. However, what sets Jiu-Jitsu apart is the acknowledgment that sometimes, you'll be the one under control, in a disadvantaged position.
Managing Emotions in Vulnerable Situations!
In the training and practice of Jiu-Jitsu, it's not uncommon to find oneself in situations where you have very little control, if any. The art was originally developed to empower those in extreme disadvantageous positions, making it necessary to cope with a lack of control.
Gracie Barra River Oaks: Experience a new beginning on your Jiu-Jitsu journey!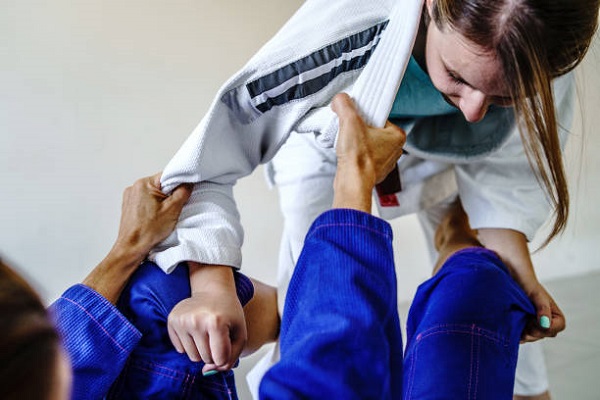 Enhancing Emotional Control!
To excel in Jiu-Jitsu, one must maintain emotional clarity and control even when they don't control their physical movements. This requires the development of mental resilience and the ability to stay calm under pressure, waiting for an opportunity to turn the tables.
Gradual Progression to Emotional Control!
Jiu-Jitsu's training methodology involves gradual exposure to discomfort and vulnerability in a safe and controlled environment. It's akin to a titration process, adding challenges bit by bit. The result is an increased level of emotional control.
The Transformation!
Through Jiu-Jitsu, women not only gain emotional control but also develop patience, resistance to pressure, and a comfort with the unknown and disorder. This transformation goes beyond the physical aspects of self-defense; it empowers women to navigate life's challenges with greater poise and confidence.
Jiu-Jitsu for women is more than just a physical martial art; it's a path to emotional empowerment. By using Jiu-Jitsu to harness emotional control in situations of vulnerability, women can build resilience, patience, and adaptability. In a world filled with chaos and unpredictability, Jiu-Jitsu provides a unique opportunity for women to find strength and clarity within themselves, both on and off the mat.
Getting Started at Gracie Barra Is Easy: SCHEDULE YOUR FREE CLASS!
Gracie Barra River Oaks: Effective martial arts programs for kids of all ages!
Gracie Barra River Oaks: A Premier Martial Arts Academy in Houston!
Gracie Barra River Oaks is a premier martial arts academy located in Houston, Texas. Founded by Professor Ulpiano Malachias, a world-renowned Brazilian Jiu Jitsu practitioner, the academy offers top-notch training in Jiu Jitsu and mixed martial arts. Professor Malachias has been involved in athletics and martial arts from a young age, beginning with Judo at the age of 4 and then transitioning to Brazilian Jiu Jitsu at 17.
Under the leadership of Professor Malachias, Gracie Barra River Oaks has grown and expanded to a new, larger 10,000 sqft location in 2016. The academy offers a wide range of training programs to suit students of all levels, from beginners to advanced practitioners.
One of Professor Malachias greatest achievements is his success as a black belt competitor in the International Brazilian Jiu Jitsu Federation (IBJJF) competitions. He has won multiple championships and medals, including the Asian Championship in 2006, American National Championship in 2004, 2005, and 2008, and Pan American Championship Silver Medal in 2010, among others. He is also the 2022 IBJJF Jiu-Jitsu Championship Open Gold Medalist.
Gracie Barra River Oaks: Experience a new beginning on your Jiu-Jitsu journey!
Professor Malachias is committed to continuously improving his teaching skills and his own knowledge and skill in Jiu Jitsu. He is a certified IBJJF referee and has served as a referee in countless IBJJF tournaments, including some widely watched finals.
At Gracie Barra River Oaks, students have access to over 700 Gracie Barra Schools worldwide, professional-quality Jiu-Jitsu gear, and online resources to further their training. The academy promotes a holistic perspective to Jiu-Jitsu, including physical and mental wellness. All GB Schools are supervised by a Gracie Barra certified instructor, who supports students and helps each one achieve their potential through challenging training programs. Each class at Gracie Barra River Oaks is customized to offer maximum benefit for the students in attendance.
In summary, Gracie Barra River Oaks is a world-class martial arts academy with a strong commitment to excellence and dedication to Jiu-Jitsu. With Professor Ulpiano Malachias at the helm, students can expect top-notch training and support in their journey to becoming skilled practitioners of Jiu Jitsu and mixed martial arts.
Gracie Barra River Oaks: Effective martial arts programs for kids of all ages!

Route
| | |
| --- | --- |
| Monday | 06:00 - 21:00 |
| Tuesday | 06:00 - 21:00 |
| Wednesday | 06:30 - 21:00 |
| Thursday | 06:15 - 21:00 |
| Friday | 11:00 - 21:00 |
| Saturday | 09:00 - 13:00 |
| Sunday | 10:00 - 12:00 |