Finger taping is an essential skill for dedicated practitioners of Jiu-Jitsu who seek to protect their hands and maximize performance on the tatami. With a variety of techniques available, it is crucial to understand how to tape fingers effectively to achieve optimal support and injury prevention.
Choosing the right tape for finger protection is of utmost importance to ensure effective protection and support during training sessions. The appropriate tape should have strong adhesive properties and be made from high-quality materials such as durable cotton or rayon. Additionally, it should be available in unique sizes to cater to individual needs. Most brands offer rolls with lengths exceeding 10 yards / 30 feet / 9.1 meters, providing ample supply for various uses.
The quality of the chosen Jiu-Jitsu finger tape material plays a significant role in its effectiveness. High-quality materials like hard cotton or rayon guarantee durability, offering the much-needed support for your fingers during intense grappling sessions. It is essential to avoid low-quality tapes that can easily tear or lose their adhesive properties when exposed to sweat.
Finding the ideal size of finger tape is crucial to ensure proper coverage and support. Finger tapes come in various widths, and it is essential to find one that best suits your specific needs. Narrow tapes are ideal for wrapping smaller joints on the fingers, while wider options provide better coverage and support for larger areas such as knuckles and wrists. Experimenting with different sizes will help you discover what works best for you.
Gracie Barra River Oaks: Experience a new beginning on your Jiu-Jitsu journey!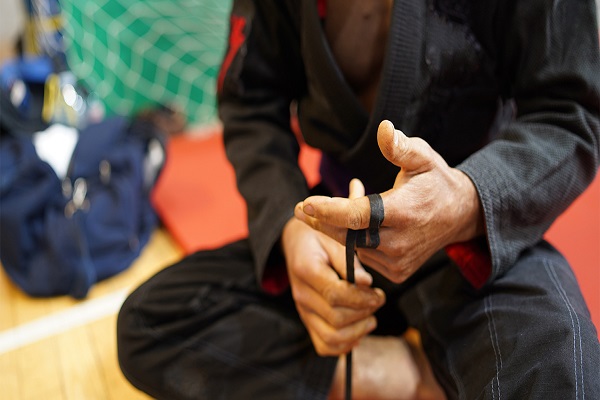 Here are some tips to consider while taping your fingers for Jiu-Jitsu:
Avoid using regular athletic tape, as it may not provide the specific support required for Jiu-Jitsu practitioners. Invest in purpose-built finger tapes designed for grappling sports.
If you are unsure about the best size for your fingers, start with a medium-width option before trying out different sizes to determine what suits you best.
Learn the proper taping technique for Jiu-Jitsu fingers to ensure maximum support and protection. You can seek guidance from experienced practitioners or instructors to master the technique effectively.
Proper finger taping in Jiu-Jitsu is not only about injury prevention but also about enhancing your performance on the mat. The support provided by the right tape can give you the confidence to execute techniques more effectively and with reduced risk of injury. Additionally, taping your fingers can also aid in recovering from minor injuries and prevent exacerbation during training.
In conclusion, finger taping is a critical skill that every Jiu-Jitsu practitioner should master. By choosing the right tape, using high-quality materials, and finding the ideal size, you can ensure the protection and support your fingers need during intense training sessions. Remember to follow the proper taping techniques and seek guidance if needed to make the most out of your finger taping routine. With well-protected and supported fingers, you can focus on honing your Jiu-Jitsu skills and achieving your full potential on the mat.
Getting Started at Gracie Barra Is Easy: SCHEDULE YOUR FREE CLASS!
Gracie Barra River Oaks: Effective martial arts programs for kids of all ages!
Gracie Barra River Oaks: A Premier Martial Arts Academy in Houston!
Gracie Barra River Oaks is a premier martial arts academy located in Houston, Texas. Founded by Professor Ulpiano Malachias, a world-renowned Brazilian Jiu Jitsu practitioner, the academy offers top-notch training in Jiu Jitsu and mixed martial arts. Professor Malachias has been involved in athletics and martial arts from a young age, beginning with Judo at the age of 4 and then transitioning to Brazilian Jiu Jitsu at 17.
Under the leadership of Professor Malachias, Gracie Barra River Oaks has grown and expanded to a new, larger 10,000 sqft location in 2016. The academy offers a wide range of training programs to suit students of all levels, from beginners to advanced practitioners.
One of Professor Malachias greatest achievements is his success as a black belt competitor in the International Brazilian Jiu Jitsu Federation (IBJJF) competitions. He has won multiple championships and medals, including the Asian Championship in 2006, American National Championship in 2004, 2005, and 2008, and Pan American Championship Silver Medal in 2010, among others. He is also the 2022 IBJJF Jiu-Jitsu Championship Open Gold Medalist.
Gracie Barra River Oaks: Experience a new beginning on your Jiu-Jitsu journey!
Professor Malachias is committed to continuously improving his teaching skills and his own knowledge and skill in Jiu Jitsu. He is a certified IBJJF referee and has served as a referee in countless IBJJF tournaments, including some widely watched finals.
At Gracie Barra River Oaks, students have access to over 700 Gracie Barra Schools worldwide, professional-quality Jiu-Jitsu gear, and online resources to further their training. The academy promotes a holistic perspective to Jiu-Jitsu, including physical and mental wellness. All GB Schools are supervised by a Gracie Barra certified instructor, who supports students and helps each one achieve their potential through challenging training programs. Each class at Gracie Barra River Oaks is customized to offer maximum benefit for the students in attendance.
In summary, Gracie Barra River Oaks is a world-class martial arts academy with a strong commitment to excellence and dedication to Jiu-Jitsu. With Professor Ulpiano Malachias at the helm, students can expect top-notch training and support in their journey to becoming skilled practitioners of Jiu Jitsu and mixed martial arts.
Gracie Barra River Oaks: Effective martial arts programs for kids of all ages!

Route
| | |
| --- | --- |
| Monday | 06:00 - 21:00 |
| Tuesday | 06:00 - 21:00 |
| Wednesday | 06:30 - 21:00 |
| Thursday | 06:15 - 21:00 |
| Friday | 11:00 - 21:00 |
| Saturday | 09:00 - 13:00 |
| Sunday | 10:00 - 12:00 |